Remodeling Services in Idaho Falls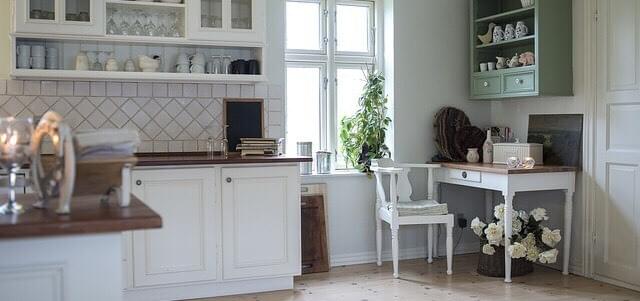 Most of you are familiar with ServiceMaster's water and fire damage restoration expertise, but did you know we also offer remodeling and construction services? We're a local family owned franchise that has been in business for 20 years. As a Licensed General Contractor we are fully insured and ready to handle any Idaho Falls home renovation including:
1. Bathroom Remodeling
2. Kitchen Updates
3. Basement Finishing
4. Interior Painting
5. Flooring Installation
6. Deck Construction
7. Door Installation
Kitchen Remodeling
An updated kitchen tops the list of wants for most homeowners. Let ServiceMaster's expert Idaho Falls remodeling team install new cabinets and tile to make a dramatic difference. We can also replace the flooring and put on a fresh coat of paint in the latest colors to give you the kitchen of your dreams!
Bathroom Remodeling
A freshly renovated bathroom not only looks great, but adds value to an Idaho Falls home. Take a look at this great bathroom remodeling we just completed. The old, outdated bathroom was completely torn out and replaced with gorgeous new cabinets, counter top, and sink, new flooring and a new accessible shower.
Basement Finishing
If your basement is unfinished or under finished, you're missing out on a lot of potentially great space in your home. Finishing a basement is one of the easiest ways to add value to your Idaho Falls home as well as great usable living space.
At ServiceMaster Cleaning and Restoration we don't just restore your property after disaster, we can completely reconstruct it. Sometimes a disaster such as a fire or a major weather event can incur so much damage to the property that parts of it may need to be entirely rebuilt. Our Idaho Falls remodeling team can take on any job from start to finish so you never have to turn to multiple vendors or contracting services to get your home or business back to normal. Whether it was a fire that ate away an entire section of your home or a flood that caused damage to your foundation, we can help.
We have the experience and the skills to complete any size reconstruction or restoration job. With an in-house staff of carpenters and tradesmen specializing in structural repair, we can offer full service general contracting services. When you hire ServiceMaster Cleaning and Restoration for your project, you can rest assured that your property will be returned to pre-loss conditions in an efficient and timely manner.
Our Idaho Falls contracting services include, but are not limited to:
Permits & Licenses
Consultation
Rough framing and carpentry
Finish carpentry
Custom remodeling
Painting and staining
Wallpaper and removal
Carpet, wood and ceramic flooring
Odor removal
Call us for your next reconstruction project and have the confidence that you've hired a quality Idaho Falls remodeling team with experience and integrity. (208) 400-5723.