Cleaning Services for Elgin, IL – ServiceMaster Kwik Restore
Everyone likes living and working in a clean environment. Homes and offices that are well maintained are healthier and more comfortable which helps improve morale and productivity.
Keeping a clean space will also help maintain the appearance of your home or office and impress visitors and customers. It is important to clean your home or office regularly to remove dirt, dust, and other allergens that will not only make the space appear dirty, but also contribute to health issues like allergies.
ServiceMaster Kwik Restore provides a variety of residential and commercial cleaning services in Elgin, IL. For over 30 years we have been a leader in the cleaning industry and we can effectively deep clean homes and commercial spaces using advanced cleaning products and methods.
Our cleaning services will improve the appearance of your home or office and contribute to a healthy environment by removing allergens that commonly cause health issues. We provide one-time cleaning services and we can also work out regularly scheduled services to consistently clean your home or office.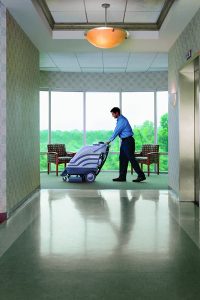 The carpeting and furniture are major features of a home or office and they are also magnets for dirt and debris buildup. Constant use causes dirt and debris to accumulate in carpet fibers and furniture upholstery and this buildup can lead to stains and discoloration. Any fading or deterioration of the carpet and furniture upholstery can diminish the appearance of the home or office.
ServiceMaster Kwik Restore provides professional carpet and upholstery cleaning services using the hot water extraction method. This method has been proven to safely and effectively remove embedded debris from carpeting and upholstery fabric to restore its appearance and help extend its life. The hot water extraction method can be done in one visit and the drying time is less than 24 hours.
Hard surface flooring is used in many residential and commercial settings and these types of floors are also susceptible to debris buildup and staining that can affect their life and appearance. Hardwood, laminate, tile, and vinyl floors gather dirt and debris within the crevices, and this debris buildup can eventually damage the finish and adhesives.
Once the finish becomes worn out, the surface of the floor becomes vulnerable to minor damage, stains, and dirt buildup. Our technicians clean and restore all types of hard surface floors with our hard surface floor cleaning services. Our advanced cleaning equipment can remove stains and debris safely from hard surface floors to restore their original appearance and help them last longer.
Our commercial and residential cleaning services consist of the following:
Carpet & Upholstery cleaning
Tile and grout cleaning
Hard surface floor cleaning
Air duct cleaning
Hoarding cleaning
Post construction cleaning
Crime scene cleaning
Why choose ServiceMaster Kwik Restore:
Our technicians go through extensive screening in the hiring process.
Our technicians are trained on the job and in the classroom.
Our cleaning products, equipment, and methods are the best in the industry.
To Schedule Professional Cleaning Services for Your Home or Business in Elgin, IL, Give us a Call at 847-908-5914