Fire & Smoke Damage Restoration in Sturtevant
Fire damage restoration service that you can count on
One of the more catastrophic crises to deal with is the fallout from fire damage. It goes beyond the flames, typically resulting in smoke damage, water damage from firefighting efforts, and the potential for toxic mold from unattended water. If you're enduring this situation, you need a reliable guide to help you navigate the entire recovery process from start to finish. That's where ServiceMaster Kwik Restore comes in. Our fire damage restoration professionals undergo rigorous training and have the experience to provide effective fire and smoke damage cleanup.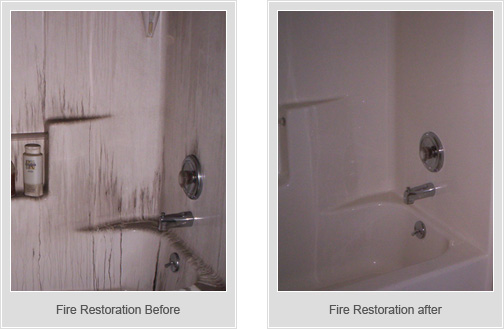 Our Fire & Smoke Damage Restoration Process
When assessing the damages, our restoration experts will create a plan that's unique to your situation. While you may not have all of these included in your recovery, our process includes:
Identifying the source of the fire.
Evaluating water-logged areas from firefighting efforts.
Remediating water damage if necessary.
Assessing damages to materials and contents from smoke and soot.
Removing contents to a secure facility during the recovery phase.
Packing out contents that are salvageable for cleaning.
Clearing charred contents and conducting structural restoration.
Evaluating all flooring for safety and possible replacement needs.
Inspecting the subflooring and framing of the property for structural integrity.
Deodorizing affected areas to remove smoke odor.
Sealing the property to prevent odors from permeating back into the property.
Bringing all salvageable items back to a pre-loss condition.
Returning clean contents to the property and helping you get back to normal.
Don't endure this stressful situation alone – you have our resources available to help you through the entire process.
Call(262) 324-1061 orreaching out online now for reliable sturtevant fire damage restoration services!

Types of Fires
What many property owners don't think about is that there are a variety of fires. It's not quite as simple as a generic fire that occurred with an ensuing process to return everything to pre-loss condition.
The fire restoration plan depends on the type of fire, which could be:
Protein Fire – this happens when food from the oven or stove has burned and started a fire. Protein fires leave behind a strong odor and smoke residue that sticks to many surfaces.
Complex Fire – when natural and synthetic items are burning, greasy residue and synthetic smoke odors soon follow. In a complex fire, emergency corrosion mitigation is necessary for protecting surfaces.
Natural Fire – these occur from trees, shrubs, and bushes burning outside while the smoke seeps into the structure of your property and leaves residue and odors.
Furnace Fire – malfunctioning heating appliances are a common occurrence, especially when the heating appliance is oil-fired.
Learn About Sturtevant
Originally, Sturtevant was called Parkersville. After being renamed Corliss in 1901, the village received its current name in 1923 and currently hosts a population of 6,606 residents. Sturtevant is a part of Racine County, Wisconsin. Racine Zoological Gardens, Dairyland Greyhound Park and Big Foot Beach State Park are among the places to visit while in Sturtevant.
For efficient and reliable fire and smoke damage restoration in Sturtevant, turn to the ServiceMaster Restore team by calling (262) 324-1061 orreaching out online.
Fire and Smoke Damage Restoration FAQ
How long will it take to restore my property?
There are many variables and many services involved in fire and smoke restoration, so it is difficult to predict how long the entire process will take. For a detailed timeline and phase breakdown of the restoration project for your commercial property, speak with your ServiceMaster Restore restoration technician.
Is fire damage restoration covered by my insurance?
If service is an insurance claim, ServiceMaster Restore generally collects only the deductible amount from you before work begins, and bills the balance to your insurance provider as a service to you. If your project is not covered by insurance or you decide not to file a claim, a payment schedule must be agreed upon before any non-insured work begins.