Professional Carpet, Rug & Upholstery Cleaning Services in Sioux City, IA
We Have Over a Half-Century of Experience
ServiceMaster of Sooland is the premier residential and commercial carpet cleaning company serving Sioux City and the surrounding area. We also clean rugs and upholstery. Since our founding over 50 years ago, we've been committed to the satisfaction of our clients. We believe this requires great communication, punctual and professional service, and upfront cost estimates. Simply put, you won't find a carpet cleaning service in the Sooland more committed to excellence than ServiceMaster.
Benefits of Regular Carpet, Rug & Upholstery Cleaning
Clean carpet, rugs and furniture are paramount to the positive image your home or business presents to the world, but finding the time to clean them yourself, especially with spectacular results, is nearly impossible. That's where we come in! The benefits of having your carpets, rugs and upholstery professionally cleaned, include: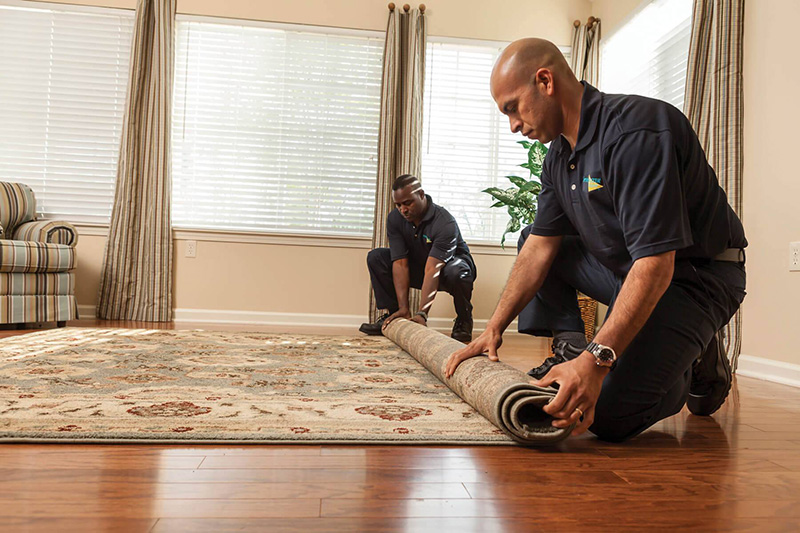 They last longer. Dust, sand and dirt break down the fibers in your rugs and upholstery, making them wear faster. Our cleaning process thoroughly removes these offenders, extending the lives of your carpets, rugs and furniture.
Better air quality. Soiled carpets, rugs and upholstery trap pollutants, including allergens and microbes, which can reenter the air, making family or employees sick.
Improves morale. When your family or employees interact in a clean setting, they are more relaxed and inspired, and feel proud to be living or working in an such an environment.
Our Process
We'll begin with a thorough inspection of your carpets and/or upholstery, which will help us decide the best method to use when cleaning them. Next, we'll carefully pre-treat spots or stains and apply the proper cleaning solution to release any trapped soil. When we're satisfied with these results, we'll rinse your carpet with clean, hot water, then treat any stubborn stains that remain. Next, we'll carefully groom your carpet to give it a more consistent look and to aid in drying. Your furniture will be placed on pads to protect the carpet as it dries. Finally, we'll walk through the areas we've cleaned with you to make sure our work meets or exceeds your expectations.
No One Does it Better than ServiceMaster!
ServiceMaster of Sooland is licensed, bonded and insured, and meets all health and Occupational Safety and Health Administration (OSHA) regulations. Our carpet, rug and upholstery cleaning services cover SE South Dakota, NW Iowa and NE Nebraska.