Water Damage Restoration in Philadelphia
Water Damage Repair Available 24/7
Has your home suffered water damage from unforseen weather events or busted pipes? At ServiceMaster Omega Restoration, we know that water damage can wreak all sorts of havoc: ruining wooden antiques and heirlooms, hardwood floors, carpet, and upholstered furniture. We also understand that emergencies do not tend to happen at opportune times, during weekday working hours. That is why we are available 24 hours a day, 7 days a week, 365 days a year in case you need help fast. Just a call or message away, our team will do everything we can to restore your things with urgency.
When it comes to water damage in Philadelphia, assessing the situation and diagnosing a proper course of action is crucial. Responding promptly, and swiftly getting to work, we respect the importance of not wasting a second of time when mitigating water damage and flood cleanup. At the same time, our experts know when patience is preferred. Some companies and services panic, and hastily rush to dry everything. This is not always an ideal solution. When wood becomes soaked with water it also expands. Then, as it dries, it gradually shrinks. The quicker this process happens, the more likely the wood will warp. As a result, it is often wiser to allow wood and other materials dry slowly. If this sounds confusing, do not fret. The dependable Philadelphia water damage contractors at ServiceMaster Omega Restoration are here to provide the requisite expertise and implement the best possible course of action.
in need of water damage restoration in philadelphia? call(215) 857-9833 orContact our emergency response team today.
Diagnosing Water Damage & Water Mitigation
A key factor of water damage mitigation is correctly gauging the scope and type of damage. Sometimes, water damage can occur quietly and be hard to immediately detect. In such cases, the cause is usually less conspicuous than a leak or flood. Dampness and moisture, if persistent for a prolonged period, can cause serious water damage that our Philadelphia water damage contractors are equipped to repair. However, before you call the water damage restoration specialists, it is up to you to discern that there may be a problem in the first place.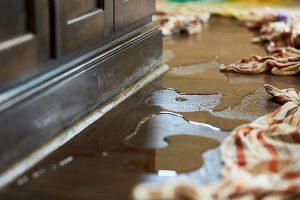 That is why we always recommend home and business owners to be on the lookout for these indicators:
Wood that is warping, cracking, or suffering from consistently loose joints
Bubbly spots materializing on surfaces and under veneer
Liquifying adhesives
Sudden watermarks or water stains
Patches of varicolored mold
Different kinds of water are labelled with different colors. We can handle both cleaner water damage as well as sewage.
White Water / Clean Water: This water results from a leak in supply lines. This is good news, as drinkable water should be devoid of excess mineral deposits and chemicals that exacerbate water damage.
Grey Water: This label is applied when there is a contaminant, typically chemical, in the water. It is commonly the result of leaks caused by cleaning appliances like washing machines or dishwashers.
Black Water: This label is used to describe dirty, contaminated sewage water that is likely toxic or corrosive. When present, extra precautions will be taken by our water damage contractors to ensure everyone's safety.
If you're seeing any of these signs of water damage in walls, floors or other areas, call us right away at (215) 857-9833 to provide clean-up and repair services.
Steps to Take If Your Basement Is Flooding
If a flood, heavy downpour, persistent leak, or poor water runoff system has flooded a basement or room in your home, we suggest the following steps:
Do not enter – A flooded basement can be an electrical hazard. If the circuit breaker is not in the basement, shut off the power. Call an electrician and our restoration contractors immediately.
Remove the water – If you had a sump pump or drainage system, it has clearly failed. We can help you extract the water in a jiffy to prevent mold and further damage.
Tend to wet property – Relocate everything that is damp in a dry space to limit damage and mold.
Air out – Basements rarely dry without assistance. We provide industrial equipment and dehumidifiers to eliminate moisture quickly.h
Prevent mold – Moist, enclosed spaces are ripe for mold. After drying, an air purifier can help filter out spores and allergens.
Water Damage Restoration From an Intelligent, Trustworthy Team You Can Rely On
Water damage is always unsettling. With ServiceMaster Omega Restoration of Philadelphia on your side, we will go above and beyond to restore what is salvageable. With knowledgeable technicians who boast years of industry-leading techniques, state-of-the-art equipment, and an in-depth understanding of the dynamics of water damage, you can be confident that your beloved antiques, heirlooms, and furniture will receive the maximum probability of being restored.
Give our team a call at (215) 857-9833 orcontact us online to schedule water damage repair today!