Hoarding Cleaning Services for Maple Grove, MN
Hoarding is a mental disorder that can have serious implications for the individual that is struggling with the issue as well as their family. Those that deal with hoarding issues often create dangerous living conditions within their homes by continuously collecting items until the hoard grows large enough to block off access to parts of the home or harbor mold and other bacteria that can be hazardous to their health. ServiceMaster Professional Services provides hoarding cleaning services to help those that struggle with this issue in Maple Grove, MN. We have plenty of experience with hoarding cleaning jobs to effectively clean even the most extreme cases in homes and apartments.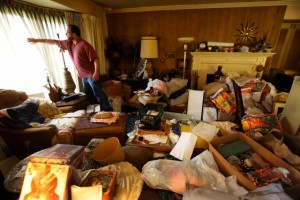 Call (763) 294-7638 for hoarder cleanup services in Maple Grove, Minnesota.
Professionals Who Provide Compassionate & Thoughtful Hoarding Clean Up
Our experience with hoarding cleanup has led us to the understanding that taking a realistic, honest, and compassionate approach is the best way to successfully clean out the homes of hoarders. Those that struggle with hoarding or who are acting on behalf of a family member or friend that hoards should not feel embarrassment as hoarding is a symptom of a complex anxiety disorder. Hoarders are often incapable of throwing anything away including a variety of personal objects, paper, food containers, trash, and sometimes even animals.
The technicians of ServiceMaster Professional Services come prepared to find almost anything in the hoard of collected items. We use personal protective equipment to keep ourselves protected and we are licensed, bonded, and insured to effectively clean up the homes of hoarders within the rules and regulations of the EPA, OSHA, and the Department of Transportation. Our approach to hoarding cleanup includes this 3-phase approach designed to earn the trust of the individual before engaging in major cleaning:
Phase 1: We make a personal connection with the individual to earn their trust and respect.
Phase 2: We will create a cleaning plan and then implement the plan.
Phase 3: We will follow up with the family to ensure that they are keeping their home clutter free.
The cleaning phase of our hoarder cleanup services include the following:
Saving valuable items such as jewelry and money
Removing unnecessary clutter
Helping to decide what should be thrown away, donated, or recycled
Giving valuable items to family members
Dealing with required paperwork from lawyers and government agencies
Sanitizing and deodorizing the home once the hoard has been removed
If you have a close friend or family member that struggles with hoarding issues and has created unsafe living conditions in their home, talk to the hoarding cleanup professionals of ServiceMaster Professional Services. We take a realistic and compassionate approach to help clean out the homes of hoarders in Maple Grove, MN.
We can be reached anytime at (763) 294-7638 for more information about our hoarding cleaning services.