Water Damage Agents & Adjusters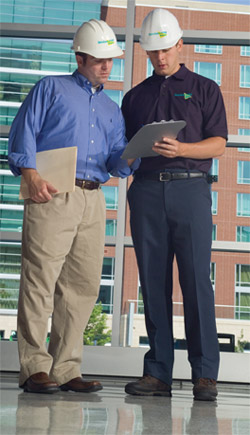 When Disaster Strikes, Restore Your Policyholders Peace of Mind- Fast.
One number does it all. Whenever and wherever disaster strikes your policyholder, simply call (316) 333-5317. In most cases, a local Wichita restoration specialist will contact your placeholder within 15 minutes and will be onsite in less than two hours. Our quick response often means the difference between a small cleanup and a more costly and time consuming restoration.
Only ServiceMaster Quality Cleaning offers an expensive network of certified Quality Restoration Vendors (QRVs) throughout North America. To achieve and maintain QRV status, our employees must undergo intensive training and adhere to strict standards for disaster recovery. These standards ensure the highest levels of technical expertise and customer service.
Preparing Agents and Adjusters in the Event of a Disaster
The more you know the more you can help. As the insurance agent or adjuster, you're often the first contact for a policyholder who has experienced a disaster. You are in a unique position to put your policyholder at ease and to help minimize damage. The more you know about the disaster mitigation process and recover, the more you can guide your client in taking the right steps to control damage therefore control costs. ServiceMaster Quality Cleaning is an approved Continuing Education (CE) provider in 43 states. We've developed a curriculum that emphasizes the cost-saving benefits of quick response and correct action in several areas.
Policyholder Satisfaction
At ServiceMaster Quality Cleaning, we value the trust you place in us to help restore not only your policyholder's property after fire or water damage, but also their peace of mind. We appreciate being your mitigation vendor of choice. In 2011, we began using Net Promoter Scores, or NPS, to track policyholder satisfaction.
What is NPS? Net Promoter Score is a method of calculating the satisfaction and loyalty level of your customers, with the ultimate goal of determining your business' potential for growth and profitability. Our NPS system, Tel ServiceMaster, provides a comprehensive system for determining customer loyalty and improving customer retention.
Following each job, we email a brief two question survey. Your policyholder is asked to rate how likely they would recommend our service to a friend or colleague. The scoring range is between zero (unlikely) and ten (very likely). They are then given an opportunity to provide more information about the service experience in an open text box. Based on their response, the policyholder is classified as a detractor, passive or promoter. Scores are rolled up, and ServiceMaster Quality Cleaning franchise receives a composite score representing how satisfied policyholders are with the service provided. Our business is notified immediately of any detractor feedback so we can reach out to the policyholder and resolve any issues quickly
.
As your service partner in the claims process, ServiceMaster Quality Cleaning understands that the job we do affects your policyholder's satisfaction. We know that doing the best technical job is expected. But we also understand the emotional needs of those involved and the need to deliver a remarkable customer service experience.
We Bring in the Best When the Unexpected Happens.
The once-in-a-decade flood happens without warning. Pipe bursts, leaking water heaters and other plumbing mishaps can occur when least expected. Your policyholder is depending upon you to refer fast, competent help that can stop the damage, dry then restore their home. The experts at ServiceMaster Quality Cleaning understand that experiencing water damage can be difficult. Policyholders can rest assured they've selected the right people to do the job. With more than 20 years' experience in Wichita, we are a leader in water damage restoration.