Hermitage Water Damage Service
Restoration Services for Various Types of Water Disasters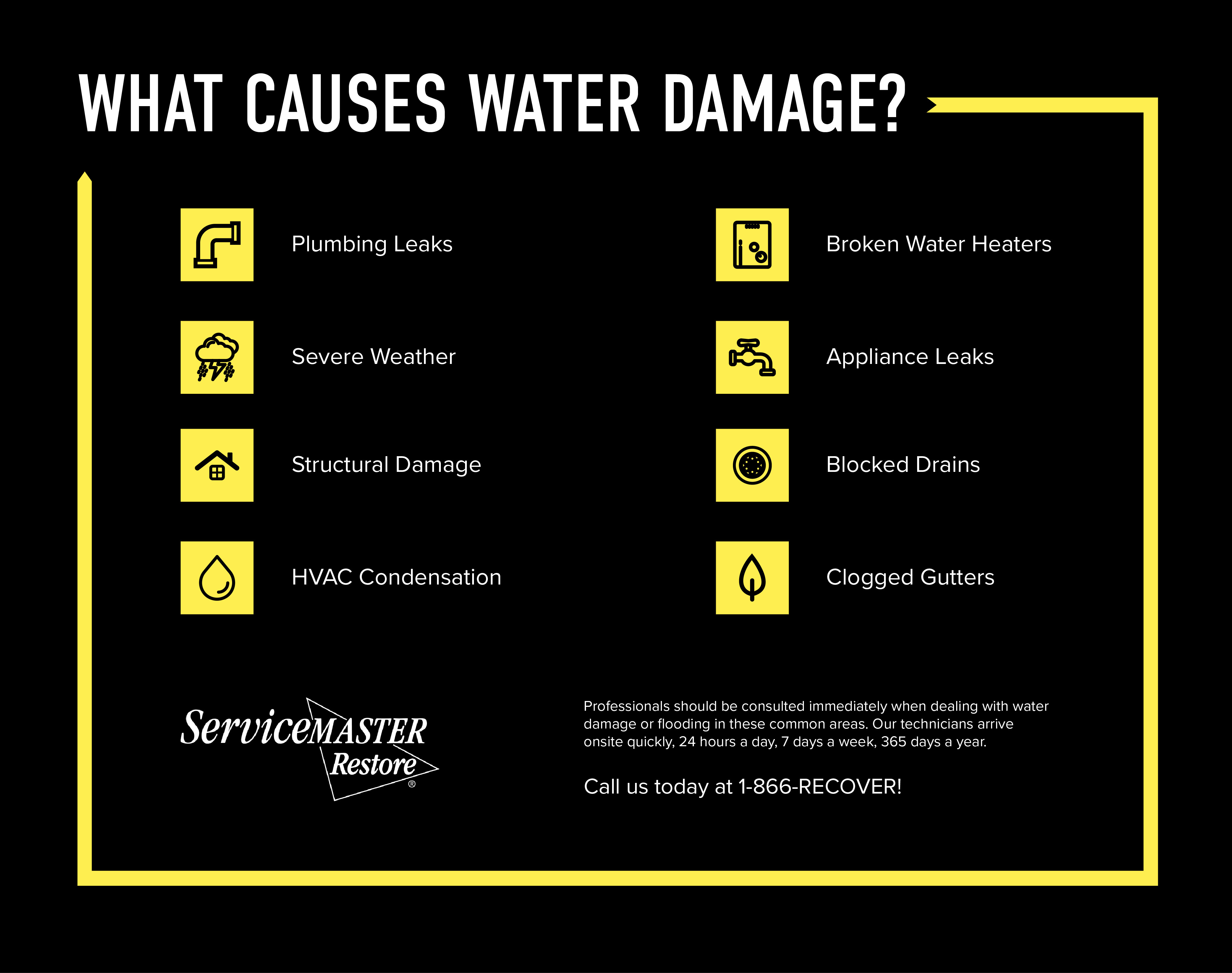 Most people don't realize that our area is prone to moderate flooding, even while sitting in the middle of the state. However, natural disasters aren't the only water damage risks in Hermitage. You may deal with home-related water issues, from water heater malfunctions to leaking roofs and almost everything in between. Fortunately, when water damage poses a significant threat to your home, ServiceMaster Restoration by David is here to help.
Our locally owned and operated business in Hermitage is backed by a larger brand with national resources and a 65-year reputation. This means you have access to technicians with overarching support and 24/7 availability. We are even available on holidays and weekends!
With state-of-the-art equipment and years of experience, we mitigate various water damage issues with ease. So why wait? Reach out to our local licensed technicians today!
Call(615) 558-5301 for water damage restoration services in Hermitage. Orclick here to contact us online.
Types of Water Damage We Can Fix
At ServiceMaster Restoration by David, we offer restoration services for water damage after:
Cracked or broken pipes
Leaking appliance hoses
Leaking roofs
Natural disasters
Malfunctioning water heaters
Failing sump pumps
This isn't an exhaustive list, as we can restore your space after almost any type of water damage. Because we're restoration service specialists, we know the longer water sits, the more destruction it causes your foundation, floors, walls, and more.
Let us guide you through the arduous process with patience and understanding so that you can get back to life as usual.
Our Comprehensive Water Remediation Process
Water damage doesn't just pose a moisture threat; it can also cause mold growth, structural issues, etc. As a result, our restoration specialists have a strategic process for removing water and locating the source of the moisture (if it isn't natural).
We follow a detailed process that involves:
Removing standing water from affected areas
Dehumidifying the space to remove wetness
Purifying the air of mold spores and bacteria to reduce mold growth
Assessing foundation components such as joists, bearings, and subfloors
Separating personal possessions for future cleaning and storage
Removing water from your home may seem like a simple task. However, it can become dangerous when you have dark-colored standing water. The lack of visibility means bacteria are likely present and need professional abatement.
Allow our team to provide exceptional water damage services that protect the integrity of your home and give you peace of mind.
Benefits of Water Damage Repair in Tennessee
Not only can water damage compromise the structure of your home and all your possessions, but it can also create a health hazard and other long-term issues for you and your family. When it comes to water damage repair and restoration, time is of the essence. So, why not obtain all-in-one services from a professional water damage restoration company to restore your home and life.
Here are several benefits of hiring a water damage restoration company near you:
Quickly remove water from your home and start the drying process

Reduce overall total losses and restoration costs

Eliminate all health hazards associated with water damage

Prevent mold growth

Make necessary repairs

Help you with insurance claims
Call(615) 558-5301 or contact us online today for water damage restoration services in Hermitage.