hermitage fire damage restoration
Reliable Fire Cleanup & Repair Services for The Home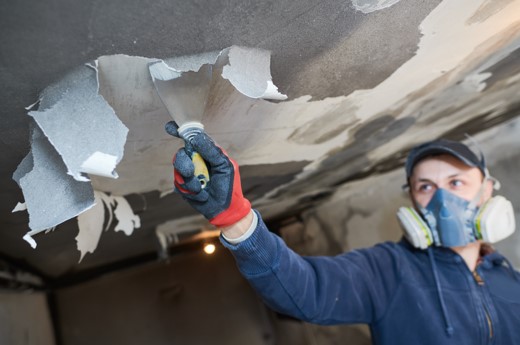 Nothing is quite as bad as dealing with a fire in the home – the loss can be devastating. To help get things back to normal quickly and reduce some of the stress that comes with such an awful event, turn to ServiceMaster Restoration by David for help.
We're true professionals in repairing all things fire and smoke damage, so whether it was a result of a furnace malfunction, wildfire, grease fire, or something else entirely, our team has probably seen it before. We offer a wide range of fire damage recovery services that can cover every aspect of the home sooner than later.
If your home was damaged in a fire, call (615) 558-5301 or contact us online today for fire & smoke damage restoration in Hermitage.
What Are the Health Risks After a House Fire?
Unfortunately, the danger that a fire can pose to the individuals living in your home doesn't pass the moment the fire is extinguished. Most houses are full of a variety of different plastic and synthetic materials that, when burned, release toxic chemicals into the air. These fumes can become trapped in the home and personal belongings left in the house and, if inhaled, can lead to serious health risks.
Smoke damage remains a dangerous factor in your home until it is taken care of. Smoke inhalation can cause serious health issues including respiratory issues, eye and skin irritation, and other long-term health issues.
What Needs to Be Repaired After a Fire?
Besides the damage caused to your personal belongings, fires cause quite a bit of damage to the inside of your home. Of course, the extent of this damage depends on the type of fire and the severity of the flames.
Fire Damage
From the kitchen to the garage, fires can occur anywhere in the home. Regardless of the cause and the extent of damage, all the affected areas should be restored as soon as possible to ensure the safety and comfort of everyone in the home.
Smoke Damage & Odor
Whether the fire took place inside your home, in the house next door, or miles away, smoke damage is a good chunk of the damage left in the wake of the fire. The smoke can leave behind strong, foul odors and even stain items throughout the home, including:
Hardwood flooring
Carpets
Walls
Ceilings
Clothing
Curtains
Door frames
Windows
Water Damage
Depending on how the fire was put out, there will be water damage that needs to be repaired and restored as well. Removing any standing water and moisture will ensure that mold and mildew growth do not occur anywhere in the home.
We Offer Trusted Solutions Backed by 65+ Years of Experience
Disasters like fires can be traumatizing, but our Hermitage fire restoration professionals are always here to help at a moment's notice to answer any of your questions or dispatch a team for service. We make sure to complete every service efficiently with clear timelines and consistent communication until the very end.
Request your Hermitage fire damage restoration & smoke cleanup service today – dial (615) 558-5301 to get started!
Frequently Asked Questions
What is The Fire Triangle?
The Fire Triangle is a simple yet effective way to explain the three basic components of fire:
Oxygen is the element that allows combustion to take place
Heat is the spark that causes the chemical reaction
Fuel can be paper, wood, or any other flammable material
All three elements must be present and balanced for a fire to begin. Once ignited, a fire can quickly spread and cause extensive damage if not contained or properly extinguished.