Odor Removal FOR FIRE DAMAGE IN FALMOUTH
Reliable Thermal Fogging For Smoke Damage
Fire Damage Odor Removal can be a very involved process. Firstly, the source of the odor must be removed. For instance any char or soot that is on surfaces. The challenge comes when soot and smoke have traveled into areas that aren't easily accessible.
Once the source has been removed, there are several methods for removing the odor.
Looking to get started with fire damage odor removal in falmouth? Contact our team today by calling (207) 489-8371!
Thermal Fogging: One popular way to remove smoke odors is through a process known as thermal fogging. Essentially, thermal foggers heat deodorizing agents insto a "fog" that mimics the behavior of smoke. This enables the fog to travel where the smoke traveled, assisting in reaching hard to access areas and surfaces.
Additionally, the professionals at ServiceMaster Fire & Water Restoration - Falmouth know which deodorization scents counteract certain types of smoke smells. For example, citrus smells are best for protein fires and the Kentucky Blue Grass scent works best for electrical fires. If the smell is particularly bad or of unknown constitution, cherry tends to work best.
Fire Damage Odor Removal Near You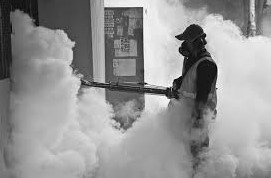 ​
It is not safe for pets and people to be present during thermal fogging treatment.
Hydroxyl Generators: This is the newer and more advanced options in the fight against odor. Hydroxyls are probably best described as odor-seeking missiles. They are artificially created in a hydroxyl generator that mimics the conditions in the atmosphere that create them naturally. As contaminated air is fed through the generator, odor-causing molecules are destroyed and purified air and hydroxyls are produced. These released hydroxyls then cause a cascading chemical reaction to multiply, seek out other odor-causing molecules and eradicate them. Interestingly, hydroxyls are capable of simultaneously decontaminating air, surfaces and objects.
Generally speaking, the use of hydroxyl generators is safe around plants, pets and people.
Ozone machines are another effective method for eliminating smoke odor. These machines generate oxygen molecules with an extra oxygen atom (O3). Ozone molecules are highly reactive and attach themselves to molecules that generate the odor. When the molecules attach, the composition of both molecules are changed and the odor is eliminated.
It is not safe for pets and people to be present during ozone treatment.
ServiceMaster Fire And Water Restoration is available 24/7/365 for emergency service for fire, soot, smoke and odor removal as well as damage caused by water, floods, sewage, mold and vandalism.
Call ServiceMaster Fire & Water Restoration for 24/7 THERMAL FOGGING SERVICES at (207) 489-8371!