FIRE DAMAGE RESTORATION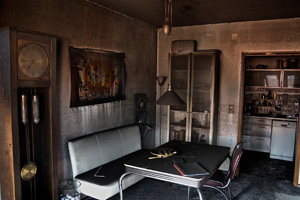 Fire and smoke damage losses can be difficult. There are so many details to coordinate such as content cleaning and furniture restoration, clothes cleaning and deodorization, evaluating personal belongings and the odor, not to mention cleaning the soot out of your home. When you work with ServiceMaster of Germantown, you have selected the right team for the job. We have years of experience in returning homes and offices back to normal as well as helping families and businesses get re-established. We're here to help!
We know that making your home liveable is your top priority. It's ours as well. We specialize in restoring your property and contents as quickly, efficiently and cost-effectively as possible.
Follow our tips below while you wait for the professionals to arrive onsite.
What to do:
Call for professional help. Corrosive byproducts can cause irreversible etching in as few as 72 hours.
Air out the house to reduce smoke odor if the temperature is above 60 degrees Fahrenheit.
Clean Formica, chrome, porcelain and aluminum fixtures to prevent permanent tarnishing or etching.
Change the air filter on your furnace if it uses forced hot air.
Tape damp cheesecloth over return and supply air ducts to capture loose soot.
Discard any open food packages after documenting damaged items for your insurance company.
Clean out the refrigerator and leave the doors propped open if the electricity is off.
Send clothing and curtains with heavy smoke damage to a qualified restoration dry cleaner.
What not to do:
Do not touch anything with your bare hands. Oil from your hands can permeate upholstery, walls and woodwork, causing additional damage.
Do not wash the walls. Incorrect cleaning can compound the soot residue.
Do not attempt to clean carpets or upholstered furniture.
Do not use electrical appliances.
Do not use ceiling fixtures.