Mold Removal in Mesquite, TX
Serving the Mesquite, TX area since 1978
Mold is a constant natural presence which is why it can be difficult to keep out of your home or building. Without proper mold remediation services, spores in the air will quickly form mold colonies when they encounter an environment that moisture and a food source.
Once mold growth appears, it has the potential to spread and cause extensive property damage, and its presence also increases the risk of negative health effects. A disaster restoration company will need to be contacted quickly.
ServiceMaster of North Texas provides mold removal services in Mesquite, TX to clean up mold and mitigate damage caused by mold growth.
Our mold specialists can prevent the mold from spreading to new areas and remove all signs of mold effectively from homes and businesses.
Why Does Mold Cause Damage in Mesquite, TX?
Given the climate around Mesquite, TX, mold can be a common problem due to moisture in the environment.
Get in touch with our water damage restoration team at ServiceMaster of North Texas as soon as you discover leaks or floods on the property.
In the meantime, be aware of what the mold can do to your property.
The presence of mold can lead to significant damage because mold uses cellulose, an organic substance found in common building materials such as wood and drywall, as its food source.
This means that mold growth can literally eat away at the affected surfaces and cause permanent damage if given enough time.
Negative Health Effects Caused by Mold
Prolonging the mold remediation process will not only lead to more damage but also a higher risk of negative health effects. Exposure to mold can cause allergic reactions including nasal congestion, skin irritation, coughing, and others while long term exposure may lead to even worse health conditions like respiratory infections.
At ServiceMaster of North Texas, we can effectively remove mold with our advanced equipment and mold cleanup products.
We start by isolating the mold growth to protect the unaffected areas of your home or building and then test the building to find hidden mold.
After removing the mold growth, our mold remediation technicians will then either repair or replace the surfaces that have been damaged.
See us in action in this video where we remove mold from a property in the Mesquite, TX area:
What to Expect From Mold Removal Services in Mesquite, TX
Mold needs to be put under control quickly. The sooner you spot it and call a mold removal service team, the better.
Our IICRC-certified mold remediation experts have been servicing the Mesquite, TX area since 1978. We've seen some of the worst mold damage cases around, and that experience is exactly what you need on a mold removal project.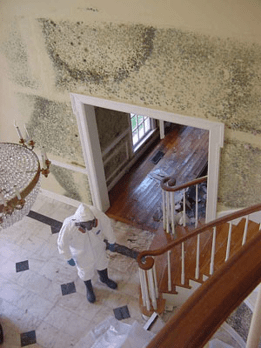 Our mold remediation services in Mesquite, TX include:
A complete inspection of the mold growth including testing for hidden mold
Isolation of the mold growth to prevent it from affecting new areas
Creation of a mold remediation plan based on our evaluation
Complete mold removal and restoration of the damaged surfaces
Mold can cause a range of issues in a home or building so make sure you are always on the lookout for it. Do this especially if you have experienced any water damage.
Contact Us for Mold Remediation in Mesquite, TX
As soon as you discover mold in your home or business in Mesquite, TX, give ServiceMaster of North Texas a call for professional mold remediation.
We are available to answer your call 24 hours a day at (972) 284-0757 for emergency services.