Cleaning & Disinfection Services in Garland, TX
Serving the Dallas, TX area since 1978.
Keep your home or office workspace clean and decontaminated with ServiceMaster of North Texas disinfection and cleaning services. For homes and businesses throughout Garland, TX, and the surrounding areas, our expert property restoration methods will clean and remove diseases living on various surfaces.
Home and business owners must take precautionary steps to help stop the spread of the coronavirus and other diseases like the cold and flu. Get your property professionally cleaned and decontaminated to best protect from the effects of the pandemic in Garland, TX, and nearby.
At ServiceMaster of North Texas, we provide contamination cleaning services for homes and commercial buildings. Our cleaning equipment is EPA-registered and our technicians have experience cleaning facilities during the SARS, MERS, and Norovirus outbreaks.
Don't worry about keeping your business environment clean, call us at (972) 284-0757 or contact our disinfection services experts online!
Commercial Disinfection services Experts in Garland, TX
The coronavirus may be new to the Garland, TX area, but our cleaning services are proven to remove such diseases and many more.
Because we keep our staff protected with Personal Protective Equipment (PPE), ServiceMaster of North Texas is confident that we can disinfect your business or home.
All surfaces will be thoroughly treated by a cleaning professional with EPA certified products. Service Master of North Texas follows the strictest cleaning protocols to ensure complete disinfection of a residence or business in Garland or throughout the region.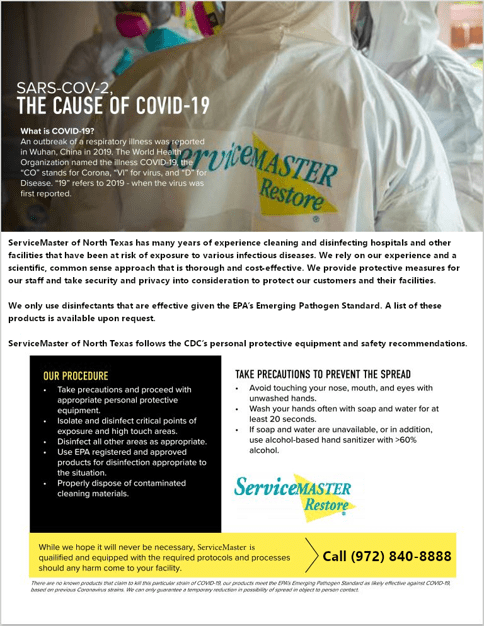 What is Coronavirus and its Symptoms?
Coronavirus, often labeled COVID-19, is a newly emerged respiratory virus. Serious cases of COVID-19 are most widely known to create difficulty breathing.
Primary symptoms of coronavirus include fever, dry cough, and trouble breathing. The severity of these symptoms can range from undetectable to life-threatening. Elderly people and those with vulnerable immune systems are at the greatest risk to experience severe symptoms.
The viral infection is passed by person to person contact, especially in enclosed spaces. You can also get it by touching objects contaminated with the virus. Symptoms can take anywhere from a few days to 2 weeks to appear.
Please view the coronavirus FAQ from the Centers for Disease Control to better research other coronavirus symptoms.
Home and Business Disinfection in Garland, TX
According to the World Health Organization (WHO), thorough cleaning and disinfection will help eliminate the spread of viruses and other diseases. ServiceMaster of North Texas focuses on frequently touched areas such as door handles, switches, phones, and much more.
Our cleaning professionals in the Garland, TX area use a high-tech aerosol system to clean your home or facility. All dangerous pathogens are removed with EPA certified, hospital-grade cleaning products.
ServiceMaster of North Texas understands that a business exposed to a virus is a sensitive predicament. Our promise is to work with confidentiality and complete the task with expertise.
We will draw up a plan covering the disinfection process and share this with your business team or household. Our Garland cleaning professionals don't miss a spot and show the utmost care in their work.
Why Call ServiceMaster of North Texas for Disinfection and Cleaning?
Our cleaning and disinfection services near Garland, TX include:
Latest technology: ServiceMaster professionals work closely with environmental scientists to create guidelines for cleaning and disinfection. We use a multi-stage decontamination process that destroys virus pathogens and protects your building from diseases.
Healthcare standard products: The disinfectants we use are used in hospitals everywhere and eliminate 99.9% of germs and pathogens for at least 30 days.
Expert teams: Our cleaning technicians are trained regularly. They disinfect homes and all kinds of commercial facilities under strict protocols that prioritize your safety.
It's best to play it safe when dealing with a potentially infected home or business. Get rid of coronavirus and other dangerous illnesses and contact ServiceMaster of North Texas for immediate disinfection and cleaning of your building.
Our cleaning services are available for homes and business facilities throughout Garland, TX, and the Dallas area.
Contact us online or call now at (972) 840-8888 to schedule cleaning and disinfection services in dallas, to protect your home or office from COVID-19 and other viruses.