Disaster Restoration – Hutchinson, MN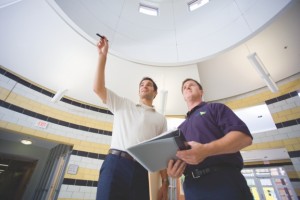 ​The state of Minnesota experiences its share of natural disasters including heavy rains, floods, and other types of severe storms which makes it important for business owners to prepare their property for the worst. While preparation will help prevent some storm damage, severe weather can still cause significant property damage that must be stabilized and restored quickly. ServiceMaster Professional Services provides commercial disaster restoration services in Hutchinson, MN to help local businesses that have sustained damage from storms or other disasters such as a fire or flood. We respond quickly to stabilize and restore your building and minimize your losses in inventory, property, customers, and revenue.
Getting you back in business is our business
The commercial disaster restoration services that we provide include planning, mitigation, and reconstruction to repair and restore large and small losses in any commercial setting. Our fast response will help save your company money by stabilizing the building which will prevent further damage and getting the restoration done quicker so you can resume your daily business activities.
Why Choose ServiceMaster Professional Services
The commercial damage restoration services that we offer to businesses in Hutchinson, MN include:
Water and Flood Damage Restoration
Fire and Smoke Damage Restoration
Drying and Dehumidification
Building Stabilization
Controlled Demolition
Mold Remediation
Air Duct Cleaning
Emergency Response 24/7/365
If your business in Hutchinson, MN is interrupted or damaged by a disaster, do not hesitate to call ServiceMaster Professional Services for commercial disaster restoration services. Our technicians are highly trained at IICRC Certified to restore major losses in all commercial settings and our quick response will minimize the overall interruption to your business.
You can call us anytime at (320) 526-2609 for more information about these services.