Fire and Smoke Damage Restoration for Hutchinson, MN
The potential for a fire should be taken very seriously in homes and offices. Fires can cause extensive damage in such a short period of time. Even after the fire is put out, there are dangers to consider. Chemical emissions from burned synthetic materials are a health risk. Soot and other corrosive byproducts continue to settle and cause more extensive damage. The damage caused by smoke and fire will become permanent within just a few days if the restoration work does not begin quickly enough.
ServiceMaster Professional Services provides smoke and fire damage restoration services in Hutchinson, MN. We help homes and businesses that have been damaged in a fire. We have training + equipment for fire damage restoration in commercial and residential settings. We can also remove soot from at-risk household surfaces with specific chemical combinations. We can clean brass, marble, tile, chrome, aluminum, and porcelain. We also work on porous materials like carpeting, and upholstery.
What to DO After a Fire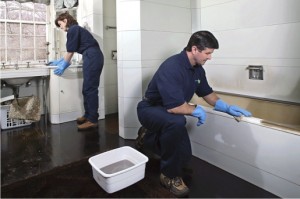 Contact SVMPS for fire and smoke damage restoration services as soon as the fire is put out to contain the damage.
If the outside temperature is above 60 degrees, open your doors and windows to air out the home.
You can prevent permanent tarnishing by cleaning Formica, porcelain, and aluminum surfaces.
If your furnace uses forced hot air, change the air filter.
You can filter soot from the air by taping a damp cheesecloth over each return and supply register.
Open food containers should be thrown away.
If the power goes out, clean out the inside of your refrigerator and leave the door open for drying.
Save your smoke damaged clothing for our restoration dry cleaning services.
What NOT to Do After a Fire
Do not directly touch smoke or soot damaged surfaces. The natural oils in your hand penetrate drywall and woodwork to make the damage worse.
Do not wash carpeting or upholstery, this should be done by professionals.
Do not use electrical appliances until they are tested for safety.
Do not use ceiling fixtures if the ceiling is wet.
Smoke and Fire Damage Cleanup
Our technicians are highly trained and experienced to handle large and small losses. We can repair and restore heavily damaged structural elements and furnishings. Our five-step fire and smoke damage restoration process includes:
Emergency pre-cleaning
Content cleaning
Content pack-out
Wall and ceiling cleaning
Deodorization
If a fire occurs in your home or building, it is important to ensure everyone's safety. First, call the local fire department to have the flames extinguished. Once the fire is out, contact ServiceMaster Professional Services in Hutchinson, MN . We will get started on fire and smoke damage restoration. We respond quickly to mitigate the damage which will save time and money on the entire restoration process.
Our phone lines are open 24 hours a day at (320) 526-2609 to respond to fire damage emergencies in Hutchinson, MN.