Sports Uniform & Equipment Cleaning
Uniform Cleaning Service Near You
Wondering how we get your sports uniforms and equipment so clean? Utilizing our specialized wash system, we're able to clean and sanitize virtually all of your sports team equipment and uniforms – articles that people have used throughout the season – and they look like it. Mud, Dirt, Grass – whatever the cause – we're able to restore soft contents that were previously considered trash.
Teams and training programs that provide equipment to many players want to ensure their gear is clean, fresh, and free from bacteria. The cleaning process is especially valuable when multiple individuals use the same equipment. Our system provides remarkable results that can be demonstrated through bacterial swab measurements before and after.
What was once lost can now be restored and that saves you money. No need to purchase new, expensive equipment and uniforms when we can clean what you already have – no matter how dirty.
Our special cleaning system restores 90% of soft contents damaged by odor, soot, grime, mold and mildew.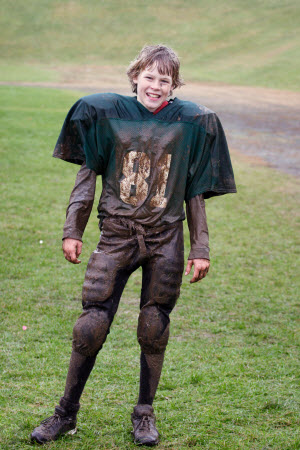 What Kinds Of Sports Clothing and Equipment Can We Clean?
Items with:
Items with heavy dirt, mud and grass stains

Strong odors

Mold and bio waste contaminated goods
Including:
Leather goods; Hockey pads, Gloves, etc.

Helmets and Masks

Pads

Shoes, Cleats, Socks

And Much More!
Patented Hydraulic Action Wash System
Our specialized system utilizes hydraulic action to force both organic and inorganic contaminants out of the objects to be cleaned. The force applied can be compared to the force of waves crashing against the sand on a beach.
This system is specially designed, scientifically tested and patented.
Due to this technology, 90% of soft contents damaged by odor, soot, grime, mold, and mildew.
Other traditional washing machines work on a basic principle of using the mechanical energy of an agitator, paddle or tumbling action to wash. This inefficient method predates the Second World War.