Residential Water Damage Restoration Services in Nacogdoches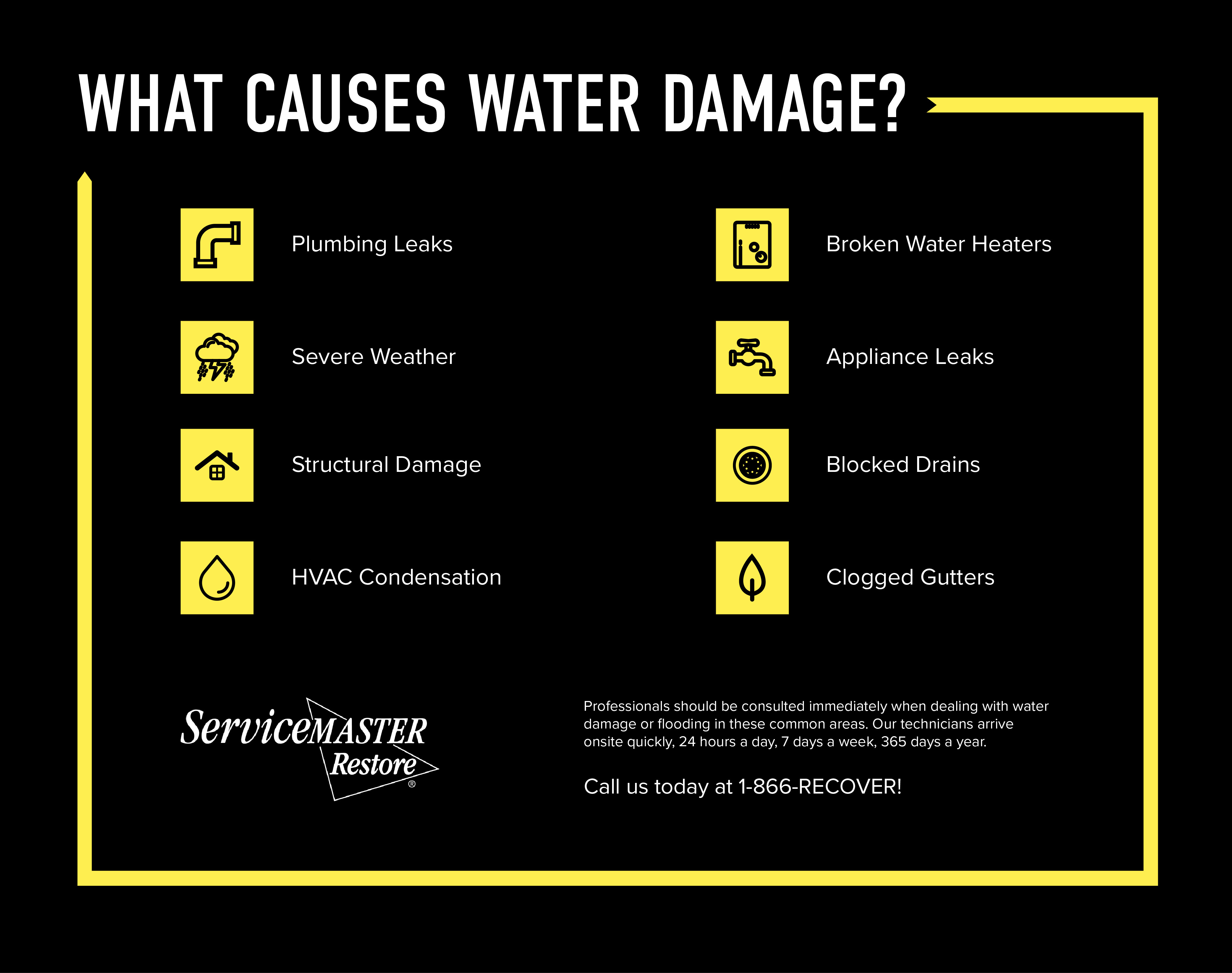 Water buildup in your home isn't a time for a DIY cleanup job. This is a time when you should contact a residential water damage restoration company like ServiceMaster Services - Piney Woods to repair the damage water has inflected on your home for thorough work and attention to safety.
No matter the source, water damage can cause extensive damage to your home. The hazards of standing water are numerous, including the potential for black mold, structural damage, and foul odors. Without taking proper action to mitigate water damage or flood claims, your insurance company might not give you any payout, either, making it all the more important to get in touch with a reputable restoration company ASAP.
---
Call (936) 237-3297 for immediate help 24/7!
---
Just How Quickly Can Water Damage My Home?
Whatever the cause of the standing water in your home, fast mitigation is the key to thorough restoration.
This is how fast water can damage your home:
Within Minutes: Water damage spreads from one room to the next, and from the ceilings to the floors below or vice versa.
Within Hours: Pressed wood can swell, disintegrate, and cause bacterial odors to spread throughout the property. This can wreak havoc on the structural integrity of your home, as well as endanger your and your family's health.
Within Days: Severe structural damage can result in disruptive, costly repairs from the serious complications and secondary damages wrought by water. Note that mold from water damage may start to grow within 24 to 48 hours, and it can lead to all sorts of structural issues and health problems.
What To Do After a Flood
It's hard to predict when a water disaster is going to happen -- water damage can happen anytime whether it is from extreme weather or a plumbing problem. What should you do when the going gets tough? Below are a few things you can do to prepare for water damage restoration after your home has been flooded.
Prepare for water damage restoration by doing the following:
Turn off your electricity. Shut your circuit breakers off and unplug your electronics. If your home is completely flooded, be cautious. Wear proper protective clothing, rubber gloves, and waterproof boots.
If you are able to, stop the water damage from getting worse. For example, if it was caused by a pipe that burst, shut off your water valves. You may also remove water as best as you can.
Contact your insurance company so you know the proper steps you need to take in terms of documenting the water damage and getting an estimate for the cost of repairs.
Dry out as many items as you can. Mold will start growing on a water-damaged property within a day or two. Move small items to drier parts of your home. If you have curtains, remove them and hang them somewhere to dry, if possible. At the very least, take them out of the water and drape them so they can begin to dry. Dry out the room as best as you can by opening windows, and using fans or the air conditioner.
Reach out to ServiceMaster Services - Piney Woods for expert water damage restoration services. Our team is available 24/7 to take care of you and your family during an emergency -- call

(936) 237-3297

today.
ServiceMaster Services - Piney Woods Has You Covered with Comprehensive Water Damage Restoration Services
We have restored plenty of homes in Nacogdoches afflicted with water damage. We work on homes that have had appliances ruptures and leaks, roof leaks, flooded basements, fire extinguishment damage, burst pipes, sewage backups, and more.
When the worst happens, you can get in touch with ServiceMaster Services - Piney Woods at any time of day, because we know disasters such as these rarely respect business hours. With just one call, we'll be on the scene within hours to fix the problem fast. We'll provide expert guidance at every step of the way — from finding the source of the leak or flood to mold removal, to restoring your home and making sure it's safe once again.
Call us at (936) 237-3297 for water restoration in Nacogdoches.