ServiceMaster Restore Tradeshows
Trade shows help bring all the different aspects of our industry together in one place. They are an excellent opportunity to connect face-to-face with a community of peers to exchange information on the latest developments, explore emerging issues, and hear from experts who understand our industry best. Trade shows have been a crucial sales and marketing tool for centuries. They provide businesses a unique opportunity to showcase their services, disperse knowledge and talk about industry trends in an environment tailored to our specific interests.
Check out the trade shows we have lined up for this year below. Come connect with us – interact with our new booth and speak with the best experts in the industry.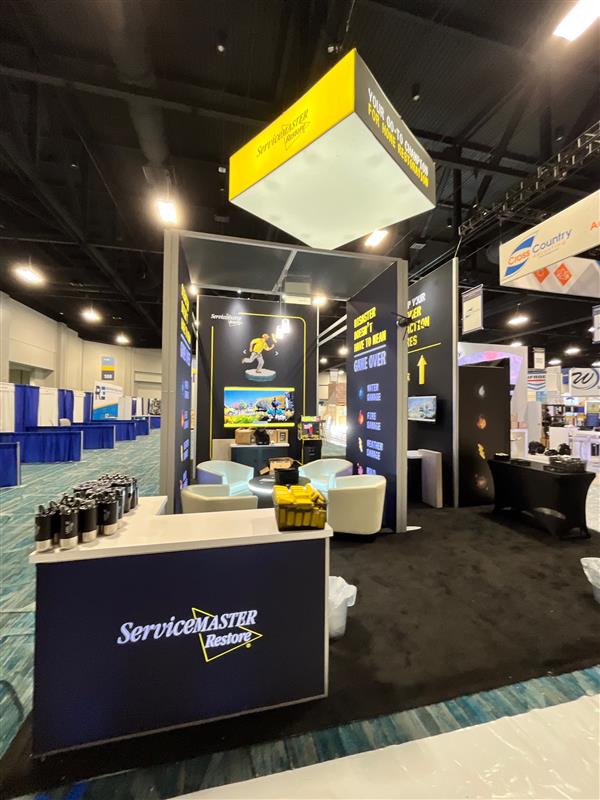 Elevate 2023 Leadership Conference | May 15th-18th | Orlando, FL
Insurance Sales Lab Bootcamp Tour | May 15-June 20th | multi-city
AMFAM Championship | June 5th-11th | Madison, WI
Traveler's Championship | June 19th-25th | Cromwell, CT
PLRB Western Regional Adjusters Conference | June 27th-28th | Dallas, TX
CCNC | August 29th-31st | Lake Tahoe, CA
Farmer's FUN Event | August 29th-31st | Nashville, TN
Embrace Conference | September 6th-8th | Dallas, TX
PLRB Central Regional Adjusters Conference | September 13-14th | Schaumburg, IL
State Farm ATS | September 13th-16th | Chicago, IL
PLRB Large Loss | November 15th-17th | Atlanta, GA
Sponsorships
Farmers Insurance Open
Travelers Insurance Championship
American Family Insurance Championship
Don't Know What To Do Next? We Do.
ServiceMaster Restore has been helping businesses and homeowners get back to normal after a disaster for over 65 years. We have over 850 locations nationwide, and each of our offices is locally owned and operated by people who live and work in your community. They understand the unique needs of your area and are always equipped with the necessary tools and products to deliver the restoration services you need. Available 24/7/365, getting your home back to normal and your life back on track is our top priority.