Water Damage Restoration Abilene, TX
24/7 Emergency Water Damage Restoration Services Near You
Water can have disastrous consequences when it enters your home uninvited. Water can cause structural damage, leading to damage that may not be noticeable at first. The water that enters your house will take the path of least resistance. Thus, it can accumulate under flooring, behind walls, and soak into cabinets.
Floods and sewage backup can also lead to mold, bacteria, and other harmful pathogen growth. Such growth can cause hundreds of thousands of dollars in damage. Not to mention they can also lead to potential health problems with extensive mold and bacteria growth.
Unfortunately, only extracting the visible water may not be enough to prevent further issues. Want to keep your home safe from structural damage? We can help!
We provide water damage restoration services in the Abilene and Big Country area. ServiceMaster by A-Town Hi-Tech will remove the water. Then restore your home to pre-disaster conditions. We can restore your home or structure before the water spreads and causes more damage or potential health issues.
We're available 24/7/365 for emergencies! Call us at (325) 732-8970 or reach out online to get started. Our caring and experienced team will help you rebuild.
Potential Harmful Effects of a Damp Home
Mold can thrive in damp conditions and lead to respiratory health problems. These types of health problems can be even more severe if a person has respiratory problems such as asthma since the mold can cause shortness of breath.
A damp home can also lead to other structural issues like tilted windows and doors or even sagging roofs. Since the overall integrity of your home can become compromised by allowing water to sit around, it's best to deal with the matter quickly.
Professional service and speed are incredibly critical in protecting your home from future damage. It is vital to call ServiceMaster by A-Town Hi-Tech for water damage restoration services as soon as possible. The materials your home or building is made out of will continue to absorb the moisture even if you can't see it anymore.
The water damage removal services we have are the following:
Water extraction
Drying and dehumidification equipment
Restoration of structural elements and contents
Disinfectant applications
Removal of mold and mildew
Document and electronic restoration
Other content cleaning
Searching for experienced water damage restoration in Abilene? We can help. Get started today by filling out a brief form. Or call us at (325) 732-8970.
Water Damage Restoration & Flood Damage Repair Process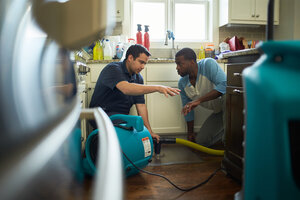 The water damage cleanup specialists of ServiceMaster by A-Town Hi-Tech are IICRC certified and to assess and clean up any water damage. We use advanced products and work quickly to get rid of any damage before it spreads throughout your home. The water damage cleanup process includes the following:
Assess the amount of moisture or excess water in your home or building
Remove the excess water or moisture using extraction equipment and dehumidifiers
Corrosion control and sewage contamination cleanup if necessary
If excess water or flooding has caused damage to your home or building, contact ServiceMaster by A-Town Hi-Tech for our water and flood damage restoration services in the Abilene and Big Country area.
We can be reached online or by phone at (325) 732-8970. Allow us to inspect your home and see how we can best help correct your situation. We will save your home from thousands of dollars in damage so you can rest easy.
FAQs About Water Damage Restoration
How Long Does it Take for Mold to Grow After Water Damage?
Unfortunately, mold and mildew can start growing in as little as 24 to 48 hours after exposure to water. And in some cases, the mold may not be visible right away.
Thus, time is of the essence to get us onsite for an inspection. We're the professionals when it comes to water damage mitigation and restoration.
How Long Does it Take to Get Rid of Water Damage?
On average, it takes about 5 days to mitigate the water and dry the impacted areas. If the affected area is small, this step can take a couple of days. Larger areas could take a week or more. It just depends on the severity of the water damage.
Don't be concerned, though. We're here to help bear these burdens for you. During your initial service, we'll get a more precise idea of how long the water mitigation and restoration processes will take. You can count on us to keep you informed from start to finish!
Need prompt and friendly water damage clean up? We can help! Book your service online or call us at (325) 732-8970. We're available 24/7/365!