Water Damage Restoration Services for Marshall, MN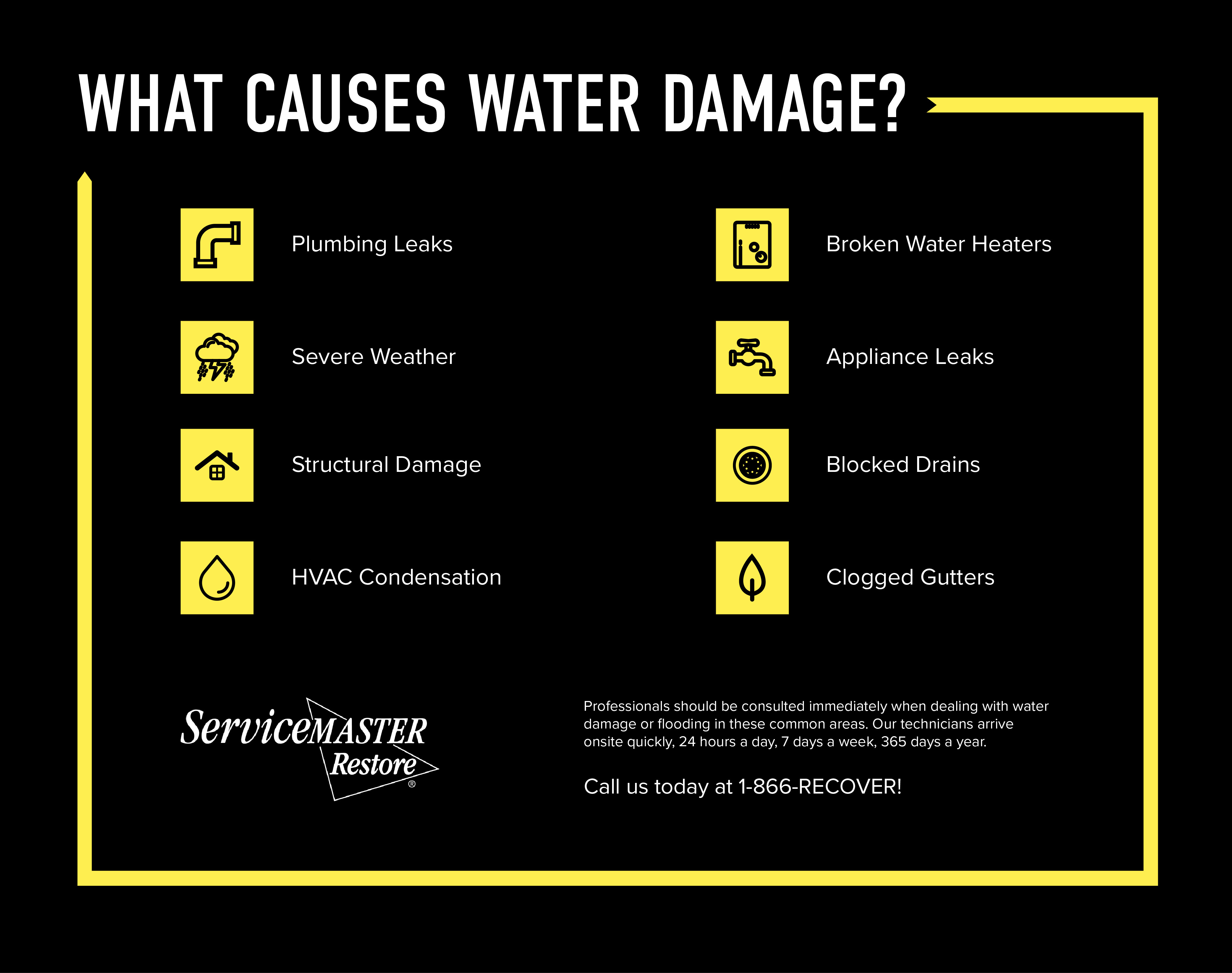 Water damage is a very common problem for homes and businesses in Minnesota because it can have many causes including flooding, heavy rain, and humidity as well as leaking fixtures and burst pipes. If you discover water damage in your home, you must act fast because even minor cases of water damage can spread to cause more extensive damage and mold. ServiceMaster Professional Services provides water damage restoration services to remove excess water from homes and businesses in Marshall, MN.
Whether you've experienced water damage due to the likes of aplumbing problem, natural disaster, or flooding, water damage is not something you should ignore. While you may think it's cleaned up via a few mops, prolonged water damage can lead to things like mold growth and structural damage to the foundation of your home or business. When you have water introduced into your living space, be sure to call a professional team as soon as possible to reduce the damage beyond what has already occurred.
We are ready to respond to water damage emergencies 24 hours a day, 7 days a week, 365 days a year.
Our technicians use the most advanced cleaning products and drying equipment in the industry to remove water and moisture from the furnishings and structural elements of your home as well as your personal belongings. We are equipped to handle water losses of all sizes in any commercial or residential setting.
When you're searching for water damage repair in Marshall, turn to none other than the expert team at ServiceMaster Professional Services. Our team of restoration professionals are highly trained, skilled, and more than qualified to handle restoration and reconstruction services for virtually any property in St. Cloud and beyond. Whether you've experienced a burst pipe in your business or woke up to a flooded basement in your home, you can rely on our expert team to perform all the necessary services you need to get things back to normal again.
How Do I Avoid Mold Growth?
From the home to the office, mold spores are everywhere and a natural part of life. Mold can get dangerous when water is introduced, as warm, moist, and dark environments are the perfect conditions for mold growth. This can happen from a water heater leak or even a spilled drink in the living room. Mold grows viciously and quickly, working to expand its reach across your home. If ignored for long enough, it can root itself in your building's studs, foundation, and other material. This will result in needing extensive mold remediation and property reconstruction services.
Some things you can do to avoid mold growth:
Clean-Up – We all spill now and then. Whenever you have wet materials in your home, you should be sure to dry them up quickly. Mold can grow within 24 – 48 hours and should be avoided at all costs.
Keep Humidity Low – It's important to keep your indoor humidity and moisture levels under control via a humidifier or other appliance. The optimal mold growth temperature is 40° F, as most molds cannot grow below this.
Repair Leaks – As soon as you notice any type of leak, including those coming from plumbing or the roof, should be repaired as soon as possible. The quicker the source of water is eliminated, the better chance you have to stop mold growth before it even begins.
Inspect Frequently – Ultimately, you should be inspecting your property frequently for both mold, as well as things that will lead to mold growth such as dripping faucets, pipes, or roofs.
To avoid mold growth in your home, your best line of defense is to control moisture. From humidity to spills, try your best to keep things dry to keep your home free of water damage that will inevitability lead to mold growth.
Full-Service Water Damage & Mold Restoration Company in Marshall
At ServiceMaster Professional Services we offer the professional mold extraction services needed to rest ensured that your mold won't return. Not only does our team fully dry your space before any type of restoration work is completed, but we'll also inspect your space for any type of mold growth, keeping an eye out for hidden spots where mold commonly grows. If our team finds mold in your home, we have the tools, knowledge, and experience to provide a comprehensive extraction of the mold spores to keep your home safe and your family healthy.
What to Do in Case of Water Damage
Call SVMPS immediately if you find water damage because ignoring it will allow it to spread and eventually cause mold growth.

Mop or blot dry to clean up excess water.
Remove wet area rugs and other temporary floor coverings.
Keep draperies off the floor by putting the bottoms through a coat hanger and putting the hanger on the rod.
Wipe down furniture to remove excess water and set the cushions up to dry.
Move paintings, photos, and like objects to a dry location.
Keep your water damaged books on their shelves packed tightly together to avoid page warping. We can treat them with a specialized drying process.
Start the drying process by opening up all doors, drawers, and windows.
What NOT to Do in Case of Water Damage
Do not enter a room that has standing water until the electricity is shut off.
Do not try to remove excess water with a regular vacuum cleaner.
Do not try and remove permanent flooring as this is best handled by a professional.
Do not use electronic appliances while standing on a damp floor.
Do not attempt to clean up any mold or mildew.
Water damage spreads so quickly through a home because wood, drywall, insulation, and other building materials are absorbent. This can lead to extensive structural damage and mold growth even in areas away from the initial source of the damage. Our technicians will stop the spread of the excess water and we use specialized drying equipment to remove water from the furnishings and structural elements of your home. Our water damage restoration services involve the following process:
Total assessment of the damage
Removal of all water and moisture
Anti-microbial application
Drying: air movement
Drying: dehumidifying
Drying: monitoring
Water damage can go from a minor problem to an emergency without the proper action so make sure to contact ServiceMaster Professional Services for water damage restoration in Marshall, MN. Our technicians use the best drying equipment in the industry to remove excess water and moisture and our fast response will help prevent further damage and mold.
You can reach us 24 hours a day at (507) 480-5588 for water damage restoration emergencies in Marshall, MN.