Park Rapids Water Damage Restoration
When it Comes to Water Damage Repairs, Experience is a Priority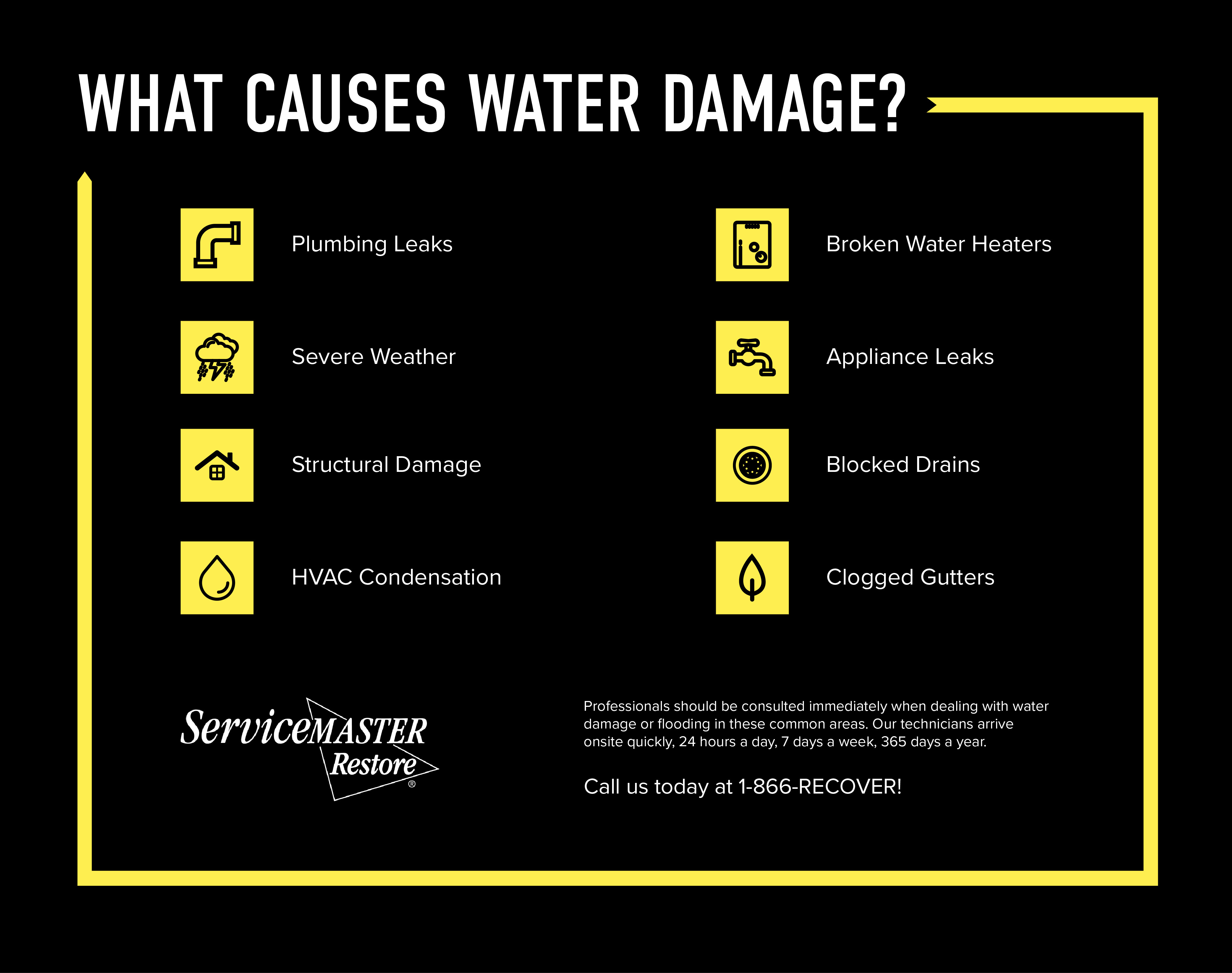 At ServiceMaster Professional Services, we work in haste to analyze water damage situations, diagnose the full extent of the problem, and devise an effective plan. Backed by a brand that proudly stands behind over 65 years of reliable experience, we have helped countless customers recover from floods, leaks, and every kind of plumbing emergency. We know that sitting water and wet furniture need swift attention. Wood rot, ruined antiques, soggy heirlooms, and mold infestations are all alarming conditions. Thus, when you are confronted with water damage, we are ready to quickly come to the rescue to salvage your hardwood floors, carpet, and upholstered furniture.
If you need flood cleanup services, call (218) 394-7954 or reach out immediately to speak with our emergency response team.
What Is Water Mitigation?
Water damage is unfortunately a common problem many homeowners and business owners face. Rainwater and flooding can seep into the cracks of a building or inundate a basement. Washing machines, sinks, and dishwashers may break and leak. Plumbing issues may arise inside walls, and pipes may burst during freezing weather. In such circumstances, ServiceMaster Professional Services is here to help.
Our water damage contractors are experts at dealing with water mitigation and water damage restoration assignments. Water mitigation is a preemptive strategy to safeguard and protect your home or business from water damage before it occurs or spreads. Its focus is to stop the expansion of water damage into new areas by:
Removing wet flooring and drywall.
Eliminating spores of mold in your subflooring.
Reinforcing structural elements that have been weakened.
Extracting water with sump pumps.
A Dual Approach to Flood Cleanup
Water mitigation efforts are implemented in tandem and coordination with damage restoration. In many cases, mitigation services take priority given that restoration cannot begin until the spread of water is halted. At ServiceMaster Professional Services, we know that offering both mitigation and restoration services simultaneously is essential to salvaging your property and furniture from water damage. That is why we are on standby around the clock: 24 hours a day, 7 days a week, 365 days a year.
Scenarios involving water damage are always time-sensitive. Such emergencies require a professional team that is both highly trained and extremely knowledgeable. Offering flood cleanup services with industry-leading water extraction equipment, you can rest assured that we have the latest technology and skill set to limit spread and do everything in our power to restore what has been damaged.
What Affects Water Damage Costs?
When salvageable, the cost of restoring carpet and furnishings to their pre-loss condition is almost always more cost-effective than replacing your property altogether. The costs of water damage repair varies depending on square footage, accessibility of the affected area, and the materials damaged. Each stage includes job-specific costs. There are costs for removal, ventilation, and mold containment services. There are costs for furniture restoration and property repairs. There are costs for using high-grade mechanical equipment. And there are costs for labor and rebuilding materials.
A key component that impacts mitigation and restoration costs is the kind of water that caused the damage.
White Water: This label is applied to water originating from water supply lines, pipes, or rain. Without chemicals and corrosive additives, these jobs are usually much cheaper than other situations.
Grey Water: This label is applied to water that originates fromappliances. Oftentimes, it is water that is contaminated with chemicals. These scenarios cost more than clear water situations, but considerably less than black water damage.
Black Water: This kind of water is especially tricky. Usually resulting from sewage backup, these scenarios involve toxic bacteria that can be health hazards. Due to the extra precautions and elaborate measures required to rid the damaged area of unhealthy residue, these projects are the most expensive.
Understanding specific rebuilding expenses is another way to get a ballpark range for the price of water damage restoration. The cheapest rebuilding cost would be to replace drywall, followed by replacing carpet, then restoring plaster walls, and finally replacing hardwood floors. There are also costs for woodwork and mold remediation that should be considered.
Equipment, Affordable Prices, and Estimates You Can Trust
Water damage restoration can be an extensive job, but it is most often more economic than buying new products and starting over entirely. It is always preferable to letting mold proliferate and water seep further into the recesses of your home. At ServiceMaster Professional Services, we are always transparent and forthright about costs and do everything in our power to restore your home or commercial space in a cost-effective manner. Combining well-proven strategies, truck-mounted cleaning systems, powerful drying equipment, safe cleaning products, and intelligent technicians, our ServiceMaster team is ready to restore your home without breaking your budget.
For more information about water damage mitigation services, call (218) 394-7954 or click here to contact our team today.