Water Damage restoration in St. Cloud, MN
Water Restoration Near You
The most common type of property damage that occurs in homes and businesses is water damage because it can have several potential causes including heavy rain, flooding, humidity, and leaks from pipes or plumbing fixtures. Homes in Minnesota are especially susceptible to water damage due to the amount of rain we receive and once excess water gets into your home or building, it will keep spreading through the porous building materials until it is removed. ServiceMaster Professional Services provides water damage restoration services for homes and businesses in St. Cloud, MN and we are ready to take your call 24 hours a day, 7 days a week, 365 days a year. Our fast response will help mitigate the damage and save you from more serious structural problems and mold growth.
Call (320) 208-9569 or contact us online for water mitigation services in St. Cloud.
The damage restoration services from ServiceMaster Professional Services are effective for any size loss in commercial and residential settings. Our technicians are highly trained and use the most advanced cleaning equipment, products, and methods available to thoroughly dry and restore the surfaces, structural elements, and furnishings that were affected.
What to Do in Case of Water Damage
Make sure to call SVMPS for water damage restoration services immediately because water will spread throughout the building
Mop or blot dry to remove some of the excess water.
Area rugs and other non-permanent floor coverings should be removed.
Drapery bottoms can be kept off the floor by putting them through a coat hanger and putting the hanger on the rod.
Wipe down the furniture to remove excess water and prop up the cushions to dry.
Put photos, paintings, and other such objects in a safe, dry location.
Keep water damaged books packed tightly together on their shelves, this will prevent warping until we can treat them with specialized drying methods.
Open all doors, cabinets, and drawers to help aid the drying process.
What NOT to Do in Case of Water Damage
Do not enter a room with standing water unless the electricity is shut off.
Do not remove water with a regular vacuum cleaner.
Do not remove permanent flooring or carpeting without help from a professional.
Do not use electrical appliances while standing in water or on a wet floor.
Do not clean up visible mold growth.
Excess water and moisture is a threat to spread through the absorbent building materials of a home such as wood and drywall which can lead to serious structural damage. It is helpful to know what the immediate steps should be to prevent more loss than necessary. But the best thing you can do to protect your property during flood damage is call a team of professionals to help.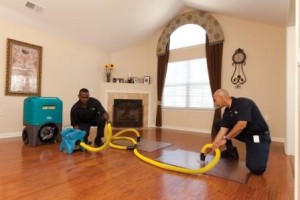 Warning Signs of Water Damage
While you may think we only get called for full-blown emergencies, this is far from the case as water damage isn't always visible. In fact, a good majority of the ServiceMaster restore customers are comprised of homeowners or businesses who have recently discovered water damage in their homes that has previously gone unnoticed until this point. This is why it's extremely important to understand the early signs of water damage, so you can reduce the amount of damage that occurs.
Dial (320) 208-9569 orcontact us to schedule water restoration today!
Some early warning signs of water damage in your building include:
Musty Smell – Musty or strange odors in your home can be a sign of serious water damage. Often attributed to increased humidity indoors you can physically feel, be sure to inspect your surroundings as soon as the smell is noticed. While older homes, basements, and attics tend to feature musty and older smells already, abrupt changes in the smell could mean trouble. If this smell is making you or others sick, you may have mold growth present.
Damaged Walls, Floors, or Ceilings – Some of the most common signs of water damage we see is bubbling. This can be seen on walls, floors, or even ceiling and often is seen with peeling wallpaper or paint. Any type of discoloration, warping, or uneven texture should be inspected for possible water damage.
Visible Stains – As mentioned before, a quick inspection when you suspect water damage will usually leave you with some other indicators water damage may be present. Slow and steady leaks result in stains and can be found virtually anywhere in your home. This is usually a plumbing problem that should be fixed and the area be restored. Visible stains may also indicate mold growth, which is a result of water damage.
Unexplained Water Bills – Of course, any unexplained spike in your utility bills shouldn't be ignored. While it may be a leak in a sewer line lower in your home, it may also be a pipe located in your walls that can cause extensive damage if not repaired. Note any unusual spikes and turn to a professional plumber for help to locate and repair the leak. Our team can perform the services needed to repair and restore your property to its previous condition.
Whether you've noticed signs of water damage or have recently experienced flooding in your home, it's important to have a team of professionals notified as soon as water is introduced into your space. The team at ServiceMaster Professional Services is ready to provide your home or business with all the water damage inspection, restoration, and remediation services you need to restore your space back to normal.
Our Water Damage Restoration Process in St. Cloud
Our technicians contain the damage so that it does not spread any further, and we will remove the excess water before thoroughly drying the structural elements and furnishings. You can expect the following from our water damage restoration services:
Full inspection and evaluation of the damage
Removal of water and moisture
Anti-microbial application
Drying: air movement
Drying: dehumidifying
Drying: monitoring
If your home or building in St. Cloud, MN sustains water damage from rain, flooding, or leaks, do not hesitate to contact ServiceMaster Professional Services for water damage restoration services. Our technicians can save you money on insurance claims and repairs by containing the damage and we can thoroughly dry the furnishings and structural elements in a building with our drying equipment.
Call us anytime 24 hours a day at (320) 208-9569 orcontact us online for water damage restoration services in St. Cloud, MN.
frequently asked questions
PROVIDING YOU WITH ALL THE INFORMATION YOU'RE LOOKING FOR
How Much Does It Cost To Fix Water Damage?

A thorough assessment is required in order to provide a precise estimate. According to national estimates, homeowners can anticipate spending anywhere between $1,304 and $5,514 on water damage restoration. The cost of this treatment is high, but it is necessary to prevent future dangerous mold problems in your house.




It's crucial to remember that pricing will change on depending on where the water damage is. For instance, the cost to repair a damaged roof ranges from $400 to $1,700, while the cost to repair a hardwood floor falls between $200 and $500, the cost to repair drywall is $2.50 per square foot, and the cost to repair a damaged ceiling ranges from $350 to $1,250.




These estimates, as you can see, vary greatly. Fortunately, our in-person inspections give you a clearer understanding of how much it will cost to restore your home.