Smoke and Fire Damage Restoration for Commercial Buildings in St. Cloud
What Is Fire Restoration?
The masters of ServiceMaster Professional Services are experts in understanding the chemical combinations that can effectively clean and salvage belongings. We can even remove soot from at-risk items such as brass, aluminum, chrome, marble, tile, and porcelain as well as fabrics in upholstery and carpets, thus helping to avoid additional expenses.
We use the latest equipment and supplies in our five-step fire and smoke restoration process:
Emergency pre-cleaning
Content cleaning
Content pack-out
Wall and ceiling cleaning
Deodorization
Even when the fire is out, the damage continues. Much of the material found in furniture and flooring is synthetic. When burned, synthetics create a variety of complex chemical reactions. After only a few days, these items go from cleanable to unsalvageable. If your St. Cloud business has been damaged by a fire, immediately call ServiceMaster Professional Services for commercial fire damage restoration in 28 counties and Minneapolis, MN.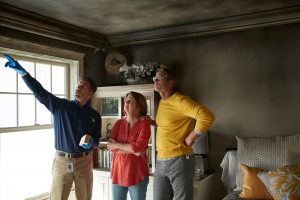 What to Do After Commercial Smoke and Fire Damage
Corrosive byproducts can cause irreversible etching in as few as 72 hours. Call us for professional help.
If the temperature is above 60 degrees, air out the building to reduce smoke odor.
Clean Formica, chrome, porcelain and aluminum fixtures to prevent permanent tarnishing or etching.
Change the air filter on your furnace if it uses forced hot air.
Tape damp cheesecloth over returns and supply registers to capture loose soot in the air.
Discard any open food packages.
If the electricity is off, clean out the refrigerator and leave the doors propped open.
Send clothing with heavy smoke damage to our qualified restoration dry cleaner.
What NOT to Do After Smoke and Fire Damage
Do not touch anything. Oil from your hands can permeate upholstery, walls, and woodwork, causing additional damage.
Do not wash walls. Incorrect cleaning could compound soot residue.
Do not attempt to clean carpets or upholstered furniture.
Do not use electrical appliances until having them checked.
Do not use ceiling fixtures if the ceiling is wet.