Dehumidification Services in St. Cloud
Minneapolis Water REmoval & Drying Services
If your home has been ravaged by water, you need proven drying techniques that will ensure no moisture slips by unnoticed. Of the many phases of damage restoration, completely drying out a building is the most time-consuming. ServiceMaster Professional Services provides dehumidification and drying services in St. Cloud & Minneapolis, MN to efficiently dry out your home or building following a flood. We have completed literally thousands of residential dehumidification projects in Minnesota over the past 40 years and our crews are some of the highest trained experts in the industry.
When a flood strikes your home or business, it can cause a significant amount of damage and the recovery often takes plenty of time and effort. You want a team that is an industry-leader and authority by your side. ServiceMaster Professional Services offers the most effective and timely solutions on the market for drying out and dehumidifying buildings.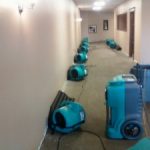 Dehumidification and Drying Process
Proper dehumidification and drying services for any structure requires that the crew uses the principles of Psychrometrics to accomplish efficient and effective drying. Each team leader has extensive experience in how to dry your structure and avoid future problems with mold and other hazards using the most advanced dehumidification and drying equipment available. Our drying and dehumidification services include our 100% dry guarantee and we can typically dry your home or building within 3-5 days.
Once the drying equipment is set up, our technicians will be at your property every day to take structure and relative humidity readings to ensure that your home or building is drying. When the structure is at or below the dry standard based on the guidelines of the IICRC, we will show the home or building owner using specialized moisture detection meters. We will not remove our equipment until we have demonstrated to the home or building owner that we have reached the dry standard.
Effective Dehumidification and Drying Results
If your home or business is in need of dehumidification and drying services in Minneapolis, MN, contact us at ServiceMaster Professional Services. Even the toughest dehumidification and drying projects are no match for our expertise as we have decades of drying experience in large scale disasters such as hurricanes and overland river flooding. Many local insurance companies and municipalities have trusted our staff to tackle the toughest tasks.
Call us at (320) 208-9569 for dehumidification and drying services in 28 counties and Minneapolis, MN.