Water & Flood Damage Restoration in Los Angeles
Water Damage Restoration in San Diego County & Orange County
ServiceMaster Recovery by C2C Restoration specializes in multiple forms of recovery including water damage restoration and water cleanup services. If a pipe bursts, a fire sprinkler is triggered, or the roof leaks, the resulting damage can occur very quickly and may continue for as long as the problem is left unresolved. For Los Angeles, CA residents struggling with water damage, we have the recovery solutions you've been looking for.
For reliable flood & water damage restoration in Los Angeles, call us at (818) 210-4674 or Contact us online today.

Emergency Flood and Water Damage Restoration
Nobody expects a natural disaster to devastate their home or business. A single instance of sudden water damage can change the entire trajectory of your day or your year depending upon how you respond. Because of how quickly water damage can worsen, taking quick and decisive action following a water damage event may be the difference between recovery taking a few weeks versus a month or much longer.
Water, by its very nature, can travel quickly and infiltrate seemingly impenetrable spaces. As it travels along the path of least resistant it seeps into porous materials like wood, sheetrock, carpet, and padding. With enough time, even sturdier materials may be rotted, rusted, or eroded away. This is why fast, thorough, and aggressive mitigation efforts must be employed to extract the water and remove all of the affected contents.
For reliable flood & water damage restoration in Los Angeles, call us at (818) 210-4674 or Contact us online today.

24/7 Emergency Water Mitigation Services in Los Angeles, CA
With our 24/7/365 availability, you can rest assured that our damage restoration professionals will arrive at your house, apartment, or building quickly (usually within an hour) after we receive a call. All of our mitigation teams know that water cleanup situations require immediate action to avoid additional secondary damage. The initial restoration steps will be started and comprehensively conducted after a thorough assessment is performed.
State-of-the-Art Technology and Assessments:
Though it's possible to complete some level of drying and remediation on your own, our extensive IICRC industry training and proprietary tools provide the best possible results following a water damage event. If a water damage restoration project is left partially done or is attempted without adequate technology, it's possible to leave a space in worse condition than when you found it.
ServiceMaster Recovery by C2C Restoration is equipped with the latest professional flood restoration equipment to quickly and efficiently evaluate and reverse the effects of flooding. By utilizing this equipment, we have the ability to dry out homes, crawlspaces, multi-unit apartments, office buildings, hospitals, warehouses, and more.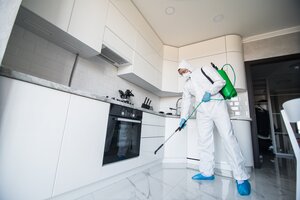 Our flood restoration services include the use of the following technologies to assess and address each individual water damage situation:
Thermo Hygrometers
Low-Grain Refrigerant Dehumidifiers (LGR)
Desiccants
Air Movers
Moisture Meters
Hammer Probes
Water Extraction Pumps
Thermal Imaging (Infrared) Cameras
Negative Air Machines
Opening windows and using box fans may feel like a step in the right direction for flood recovery, but without the use of professional-grade tools, you may find yourself with lasting water damage that further harms your home or business. All of our tools are expertly employed to locate, pinpoint, and fully remove all traces of water damage.
RESTORING PEACE OF MIND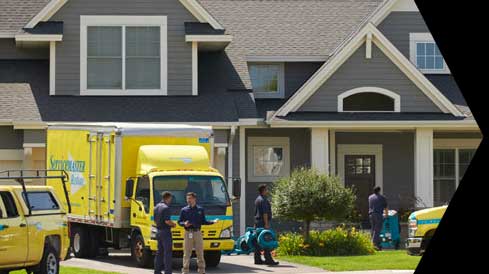 ServiceMaster Recovery by C2C Restoration is your reliable restoration expert. We restore damages caused by fire, water, smoke, and mold, while providing emergency services. With one hour response times and 24/7 availability, you can count on us to arrive and begin work quickly. We operate throughout Southern California and have offices in Los Angeles, San Diego, and Orange Counties.

contact
A Closer Look at Our Toolset:
Infrared Cameras:
Our infrared cameras can detect seemingly invisible moisture in hard-to-reach spaces such as beneath floors and behind walls. Once our restoration teams pinpoint the source of water, we can work quickly to prevent additional damage from occurring and begin the water cleanup process.
Negative Air Machines
Following a flood, one of the greatest risks to a building's inhabitants is breathing in contaminants that were stirred up by the water. In order to mitigate this, we utilize negative air machines to create negative air pressure. This process allows scrubbers to decontaminate the air to remove mold spores, dust, odors, and other particles.
Water Extraction Services
Our water damage restoration professionals use state-of-the-art technology to evaluate the best methods to dry structures and contents and the latest industrial-strength equipment to thoroughly extract water.
The first step is to turn off the power to your building to prevent electrocution or unexpected additional damage. Next, an evaluation of the space is completed so extraction and disinfecting can safely begin. After a pump removes the bulk of water from your building, the real flood restoration starts in earnest.
It's important to keep in mind that floodwaters can contain harmful materials such as sewage, bacteria, and fecal matter. Direct or indirect contact with these materials can lead to illness, injury, or even death. Because of the dangers inherent in each of these steps, water extraction should only be handled by trained professionals.
Following decontamination, we utilize dehumidifiers, air movers, and other water cleanup tools to completely eliminate water from your carpets, furniture, and air.
Flooding and Water Damage Restoration:
After assessing the situation and completing water extraction, we work quickly to remove odors and mold spores that may potentially create long-term health problems. These steps are completed using state-of-the-art technology that completely strips the moisture and odor-causing materials from the impacted space. When enough water has been removed, our teams carefully disinfect and clean any area that had contact with contaminated materials or flood water.
We act quickly to control the problem and repair the damage as well as any resulting secondary damage. This process may include water cleanup, carpet cleaning, water extraction, and furniture reupholstering to repair any damaged possessions. Our water damage restoration process strives to return your home or business to its original state, and that includes every aspect, no matter how small.
Our restoration teams also work hard to plan ahead and consider every eventuality during recovery. For instance, if mold has impacted your home severely, we provide mold remediation to home and business owners in need. Our water and flood damage processes are a one-stop-shop for all the recovery support you need.
Mold Remediation and Removal
Mold spores can develop quickly given the right conditions, and without effective cleaning or intervention they can overcome a space. Mold by and large needs very little prompting to grow, but once it takes root it can rapidly become a health hazard.
Though mold spores seem harmless at a glance, individuals with respiratory conditions, asthma, allergies, or other vulnerabilities may find themselves experiencing symptoms outside of their usual range. Mold spores in small amounts can act as an irritant to anyone in the vicinity. This could mean sneezing guests at home or uncomfortable employees at the office. In overwhelming amounts, mold can lead to severe health problems and potentially lasting lung or respiratory damage.
Beyond the health impact, mold can cause damage to surfaces and property as well. It may not be fast-moving or outwardly predatory, but mold can contribute to rot or damage to the structure of your home or business. It can also create a lasting and irritating scent that may cling to soft materials such as upholstery unless effective water cleanup is completed.
Mold remediation is a process that completely removes all sources of mold spores from the impacted areas. If even a little bit of mold is left behind it can cause a reinfestation to occur. Leaving mold remediation to mold removal professionals is the best way to ensure that the mold will not return.
Trusted Water Damage Restoration Company in Los Angeles, CA
Thanks to the newest water drying restoration equipment, leaving a flooded house free of water damage can be your reality. Los Angeles, CA residents and business owners can contact ServiceMaster Recovery by C2C Restoration 24/7, every day of the year, for water damage restoration assistance. If your property has experienced flood damage due to weather events, pump and pipe failures, or plumbing issues, please don't wait. Call us today to find out more about our comprehensive recovery services.
Call us at (818) 210-4674 or Contact us online today for professional water damage mitigation and restoration services near you.