Commercial Floor Cleaning & Care Services in Midland MI
The cleanliness and appearance of your floors reflect directly on your business. Our job is to help ensure they continue to look great all year around. To do so, we approach floor cleaning with a comprehensive system that combines advanced technology, innovative products and decades of experience. From carpets to hardwood and all other walks of flooring, we have the experience to maintain and improve the appearance of your floors as well as your reputation.
We're Serious About Clean Floors and It Shows
While there are many types of floor materials, each of them must be handled in different ways. To ensure the highest level of cleanliness, we offer expert advice on the best floor cleaning methods and provide periodic maintenance schedules to make sure your floors are always at their best. Over 60 years of experience supplying expert cleaners to businesses of all types means we are able to offer highly knowledgeable staff with an unmatched understanding of floor cleaning and the expertise to do the job right.
The Commercial Floor Cleaning Experts
Tile Floor Cleaning
Wood Floor Cleaning
Laminate Floor Cleaning
Carpet & Rug Cleaning
Re-strip & Wax
One treatment per year vs comprehensive floor care throughout the year for almost the same price.
To find out more about the commercial floor cleaning services Michigan businesses have come to trust, contact us today at (989) 200-5126.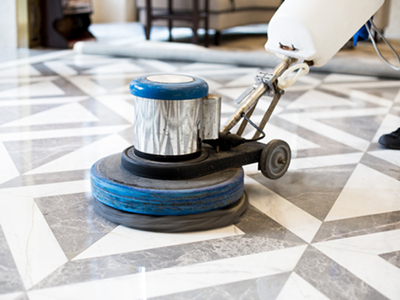 Hard Surface Floor Cleaning for Businesses
Our team understands the unique requirements for keeping hard surface flooring at its cleanest. For the best results, every type of flooring should be cleaned in a different way. Regular maintenance ensures both that you can keep a beautiful interior and that maintain the reliability and lifespan of the flooring material in your building.
Commercial Laminate Flooring: Laminates have to be treated carefully. Water and buffing products can actually damage their integrity and shine. Specialty laminate floor cleaning products are the best way to ensure the material stays protected.
Commercial Wood Floors: To get the full lifespan out of wood, it should be consistently cleaned of dirt and dust and sealed regularly. Chemicals on hardwood should generally be avoided so that the finish is not damaged.
Tile Commercial Flooring: Tile may be hardy, but it still needs to be cleaned regularly to keep its luster. Extra care is required when cleaning tile since it can create a hazardously slippery environment.
Commercial Marble Floors: Maintaining the beauty of marble floors requires consistent treatment with the right polish while avoiding acid-based products. Since dirt and stones can leave scratches, its important to keep these floors consistently swept and mopped.
Commercial Carpet Cleaning
The freshest workplaces and commercial areas are always the ones with regularly vacuumed and shampooed carpet floors. Our team has the equipment to keep your carpets and/or rugs looking bright and inviting. With meticulous attention to detail, you can rest assured that your space will have a uniform appearance with every square inch carefully detailed. In addition to aesthetic benefits, regular carpet cleaning has the added benefit of reducing germs and allergens within a building or office space. Our team is ready and available to help you get the most life and beauty out of your commercial carpets.
We also offer our Commercial Floor Cleaning Michigan Businesses can rely on to the following counties: Midland, Bay, Saginaw, Gladwin, Clare, Isabella, Gratiot, Roscommon.