Carpet and Upholstery Cleaning in Elgin, IL
Carpeting and upholstery are major components of any room, but they also require constant cleaning and care to remain in a presentable condition. This is because dirt and debris will build up in the upholstery fabric and carpet fibers through daily use. This can lead to discoloration, stains, and deterioration if you are not careful.
Our team at ServiceMaster Kwik Restore offers carpet and upholstery cleaning services in Elgin, IL to home and property owners to eliminate these concerns. We can provide these services to home owners and commercial property owners either one time or on a recurring schedule.
Call (847) 513-9018 or contact us online now to learn more about our upholstery and carpet cleaning in Elgin, IL.
Professional Carpet Cleaning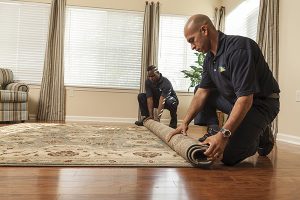 ​In residential settings, carpets are exposed to children, pets, spills, dirt, and more. In commercial settings, carpets are exposed to high levels of foot traffic and tracked-in debris.
In both scenarios, the fibers of your carpeting are at risk of having harmful dirt and debris embedded into them.
When this occurs, the operational life of your carpeting vastly decreases, and visitors are left with a negative impression.
At ServiceMaster Kwik Restore, our technicians address these issues through advanced carpet cleaning procedures. Whether your carpeting is suffering from stains, ground soil, or high-volume foot traffic, we can effectively clean and restore it.
Our complete carpet cleaning services are outlined below:
We first perform an initial evaluation to determine the extent of the damage
We pre-treat high traffic areas and stains
We utilize our hot water extraction cleaning method (this process involves professional-grade cleaning equipment that injects a sanitization solution deep into your carpeting to loosen and remove embedded debris)
We eliminate any lingering odors
We provide an optional Scotchgard protection application
Carpet Cleaning after Flooding or Water Damage
If you have experienced flooding, pipe leaks, water heater bursts, or other water damage in your home, the average carpet cleaning service may not be enough. Our Disaster Restoration professionals can perform carpet restoration following water damage incidents to ensure there is no residual moisture or mold growth that could cause problems in the future.
Carpet restoration is a way to salvage your home's carpeting beyond a simple cleaning to avoid replacing it. However, in some severe cases, replacing your carpet may be the only option. Our experienced carpet cleaners in Elgin can assess the situation and inform you of your best next steps.
Upholstery Cleaning Services
Your furniture and upholstery are similar to carpeting in that they can become worn down through daily use. As dirt and debris build up over time, these elements can act as fine sandpaper when people proceed to sit on top of them. This is a leading cause of deterioration in residential and commercial settings.
Additionally, dust and bacteria are known to gather in these surfaces and can result in a number of health complications.
The way that we address upholstery cleaning is very similar to our carpet cleaning approach:
We evaluate the condition of the furniture and upholstery
We pre-treat stains
We utilize our hot water extraction cleaning method to remove hard-to-reach debris
We offer an optional Scotchgard protection application
Standard vacuums and cleaning equipment do a good job as far as general maintenance is concerned, but nothing can compare to a professional cleaning. At ServiceMaster Kwik Restore, we implement sanitization methods that restore life to your fabric.
Furniture Cleaning for Heavily Soiled Upholstery
After a flood, sewage backup, or house fire, it is often possible to salvage heavily soiled upholstery or furniture. If you are dealing with furniture that has suffered water damage, fire damage, or smoke damage, our professional upholstery cleaning methods—especially hot water extraction—can be very effective in restoring the piece back to its previous condition. While not everything can be salvaged in these situations, professional upholstery cleaning and restoration gives you the best chance of recovering your furniture.
Because fire damage often goes hand-in-hand with water damage, we have a team of fire and smoke damage restoration experts that can assist you. We will ensure your home is back in pristine condition, no matter what!
To Schedule Our Carpet and Upholstery Cleaning Services in Elgin, Contact Our Representatives at (847) 513-9018.