SMOKE/SOOT DAMAGE CLEANUP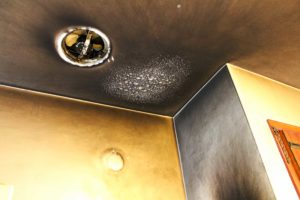 Smoke damage is unavoidable when a fire occurs in your home or business. This type of damage can greatly affect your property both during and after a fire. Smoke residue often carries a caustic or corrosive trait that allows it to breakdown the surfaces it touches. Smoke can permanently discolor walls, floors, structures, and belongings. Most of all, smoke emits a heavy odor that lasts years.
Rely on the professional disaster restoration experts at ServiceMaster of Germantown when you're in need of smoke damage restoration. Our team of restoration experts will remedy all of your smoke damage. We can clean surfaces, provide deodorization services, and help repair or replace structures when they have become heavily damaged from smoke, soot, and burns.
Our Smoke Restoration Services:
Thorough cleaning top-to-bottom
Complete content cleaning
Soot removal
HVAC duct cleaning
Professional deodorization
Odor removal
Packout service
For more information about smoke damage repair and restoration, please call us at 901-479-1672.