Prescott WATER DAMAGE CLEANUP AND RESTORATION
Call to schedule an estimate today! We work with all insurance providers.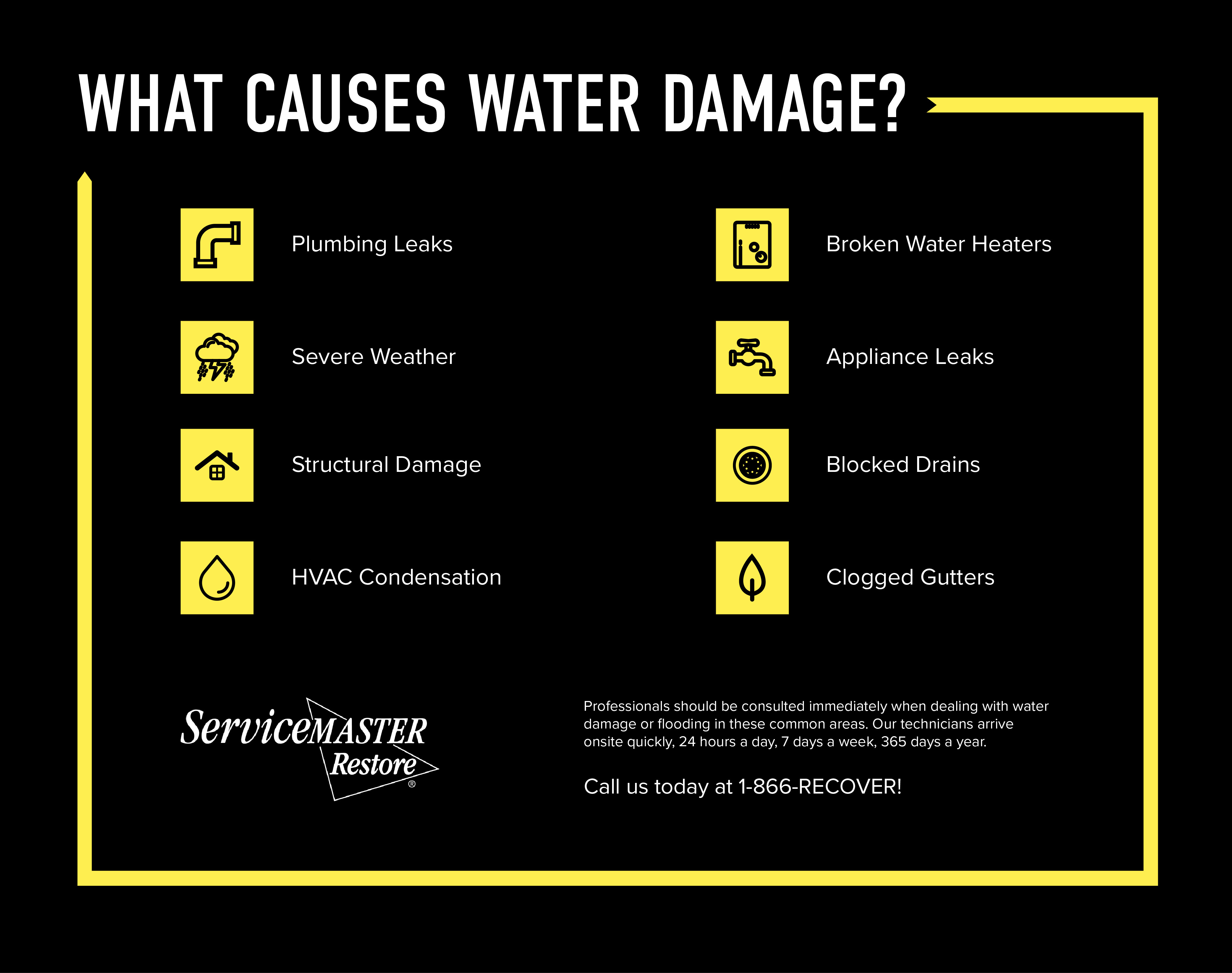 Flooding or water damage to your home can be devastatingly stressful. Count on us for fast, efficient restoration and water removal.
Water damage restoration is an emergency business. That's why ServiceMaster of Prescott is on call 24 hours a day. Our quick response reduces suffering and saves you money. Call immediately as soon as you discover damage – flood damage and water damage may mold or mildew, increasing nuisance and expense. Take prompt action and we'll be on site in a flash to contain the damage.
The cleaning professionals at ServiceMaster of Prescott use advanced products, procedures, and equipment to assure the highest level of cleaning performance and protection for property and furnishings.
When you need a water damage inspection or restoration, we're here 24/7. Give us a call across Prescott, Cottonwood, Sedona, and the Verde Valley!
If your home is experiencing water damage in Prescott due to flooding or pipe leaks, contact our experts online or give us a call now at (928) 272-6095.
ServiceMaster of Prescott 8-Step
Flood and Water Restoration Process
Inspect and Assess
Thorough water damage inspection of the structure to determine what type of materials are affected and determining the best strategy to dry the entire structure.
Remove Water
The first step in the process is to stop the source of moisture. Once the source is stopped our crews will be proceed with removing the water from the affected areas.
Dry
Air Movement: Air movement is a necessity in the drying process to remove water. The proper airflow across wet areas helps expedite the drying process.
Dehumidify
Dehumidification is the most critical piece of the drying process. The use of air movement dries the materials and the dehumidification helps pull the moisture out of the air and lower the humidity in the affected areas of the structure to prevent secondary damage.
Monitor
In order to properly dry your business we evaluate daily, monitoring your home and all material affected.
Apply Anti-Microbial:
We only perform this treatment where needed and this is typically done for sewage losses. In order to prevent bacterial growth and speed up the process of drying this step is critical: an application of an antimicrobial is used on affected areas.
Deodorization
With any water restoration job there is the possibility that there can be an odor problem that has to be eliminated. The most important step to take to eliminate the odor is to remove the source producing the odor. Once the source has been removed ServiceMaster of Prescott can begin steps to neutralize and eliminate the odor. Our methods are the most proven & efficient in the industry. If you have an odor issue call ServiceMaster of Prescott.
Pack Out Service
Pack out refers to the process of packing the contents of a single room or your entire home. We're the pros at ensuring your belongings are protected and safe when pack out is performed. We'll work fast to clean, dry, inventory and store the contents of your home in a climate controlled storage facility until your property is restored and your belongings may be returned.
Do you have mold? Learn more about mold removal.
contact us or Call (928) 272-6095 when you need water damage restoration. Our experts have the tools for any water damage repair in Prescott, AZ that you need.