Fire & Smoke Damage in Rochester
We know that fires are devastating and valuables and memories are often the most missed items. The experts at ServiceMaster Recovery By Close work with you to stabilize your home or office. Whether smoke has seeped into your walls, travelled thru air ducts, or become trapped on other surfaces, our team is available to serve you day or night to address your fire and smoke damage restoration needs.
After a fire has been extinguished, damage to your Rochester home and belongings continue. Many furniture and flooring materials are synthetic; when burned, they generate complex chemical reactions. After only a few days, those items go from cleanable to unsalvageable.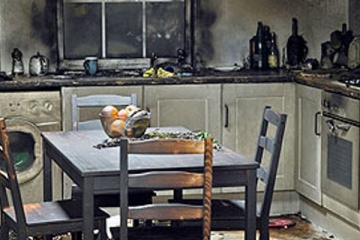 ServiceMaster Restore restoration technicians are experts at understanding the chemical combinations that can effectively clean and save your belongings, thus helping mitigate additional expenses. We can even remove soot from at-risk items, such as brass, aluminum, chrome, marble, tile, porcelain, carpets and upholstery. Not only do we clean and restore your property, we also offer pack out and storage services in Rochester.
We use the latest equipment and supplies in our five-step fire and smoke restoration process:
Emergency pre-cleaning
Content cleaning
Content packout
Wall and ceiling cleaning
Deodorization
Our trained technicians will thoroughly explain the cleaning and recovery process and provide a comprehensive Fire Recovery Guide outlining the ServiceMaster Restore fire and smoke clean-up and restoration steps.
If you experience fire/smoke damage at your home or business, minimum, the following should be done to keep damage at a minimum:
Corrosive byproducts can cause irreversible etching in as few as 72 hours. Call for professional help.
If the temperature is above 60 degrees, air out the house to reduce smoke odor.
Clean Formica, chrome, porcelain and aluminum fixtures to prevent permanent tarnishing or etching.
Change the air filter on your furnace if it uses forced hot air.
Tape damp cheesecloth over returns and supply registers to capture loose soot in the air.
Discard any open food packages.
If the electricity is off, clean out the refrigerator and leave doors propped open.
Send clothing with heavy smoke damage to a qualified restoration dry cleaner.
If you experience fire/smoke damage at your home or business in Rochester, minimum, the following should NOT be done to keep damage at a minimum:
Do not touch anything with your bare hands. Oil from your hands can permeate upholstery, walls and woodwork, causing additional damage.
Do not wash walls. Incorrect cleaning could compound the soot residue.
Do not attempt to clean carpets or upholstered furniture.
Do not use electrical appliances until having them checked.
Do not use ceiling fixtures if the ceiling is wet.
Our IICRC certified fire damage technicians undergo extensive training, and utilize the latest equipment and chemical techniques for removing soot from difficult to clean or delicate materials, such as tile and textiles. After a fire, you can trust your home or office building to the experienced professionals at ServiceMaster Recovery By Close, with total confidence that it will be thoroughly cleaned, odors eliminated, and your property restored.
If you need immediate assistance, please contact us at (585) 699-1261. We offer 24 hour a day, 7 days a week emergency services, quick response time, and work with all major insurance companies. As a leader in this industry for more than half a century, we've perfected the process for quickly identifying damage, determining the restoration services needed and minimizing trouble and inconvenience on your end.