Water Damage Remediation Experts in Woodbridge, VA
Need Water Damage Restoration Near You? We're available 24/7!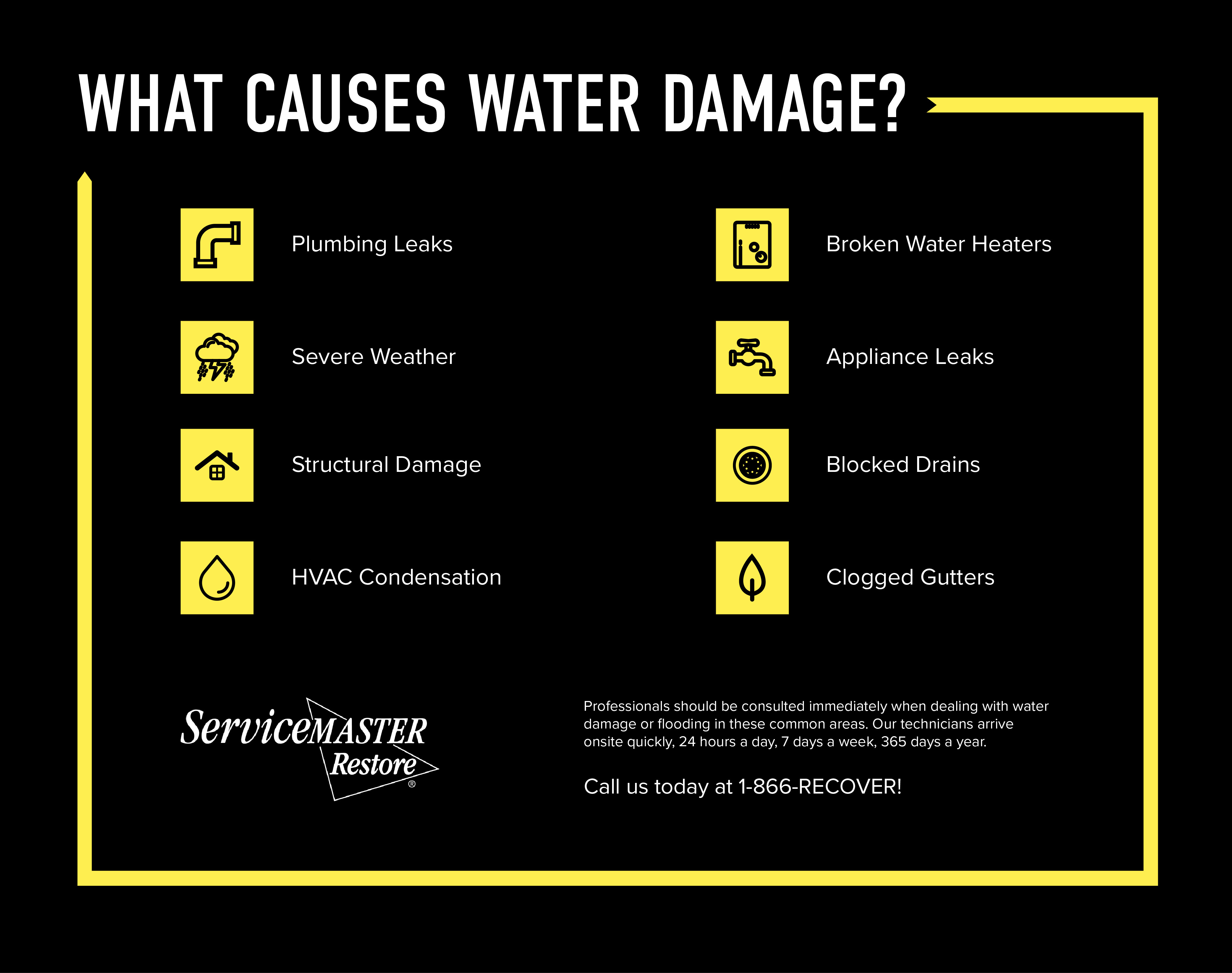 As homeowners like you, we know how stressful it can be dealing with water damage. At ServiceMaster of Woodbridge, that's why we're here! We're here to ease your anxiety through responsive, professional, and quality service.
Our Woodbridge, VA water damage restoration company is locally owned and operated. At the same time, we're backed by a national brand with over 65 years of experience in the industry. When it comes to water damage, we've seen it all.
Was your damage caused by a malfunctioning appliance or roof leak? Regardless of the cause, count on us to mitigate the water and restore your home to its pre-loss condition. In the end, we're the Woodbridge water restoration company you can trust to help you rebuild.
For your peace of mind, we offer 24/7/365 emergency services. Call us at (703) 783-3912 or reach out to us online to get started.
Our Water Damage Restoration Services
ServiceMaster of Woodbridge will remove the water and make the necessary repairs to your home.
Water Mitigation in Woodbridge, VA
Water mitigation is the process of removing the water from your home. This step in the process is also key to preventing any further damage done to your home.
The water mitigation needs to happen first before any restoration work can be performed.
How Long Does Water Mitigation Take?
It usually takes 3 days to completely dry a room after it's been exposed to water.
Woodbridge, VA Water Restoration
Water damage restoration is simply the process of restoring your home it its pre-loss state. Once all of the water has been removed and exposed areas are dry, we can begin making repairs.
How Long Does Water Damage Restoration Take?
The reconstruction process can anywhere from 1 to 2 weeks. This might seem like a while, but we mustn't cut any corners in this process. In the end, the wait will be worth it! Your home will be left as good as new.
Get the help you deserve today! Contact us online or give us a call at (703) 783-3912 to get started. Our water damage experts are ready to lend a helping hand.
What Can We Expect During the Service?
We handle the whole process for you. This includes working with your insurance company! Check out our drying and restoration process below.
Our 5 Step Drying Process
Inspect & Assess: Using state-of-the-art instruments, our certified technicians will inspect your home for damage, identify the source and outline the work required.
Remove Water: We use various methods to extract water, including absorbing, draining, pumping and vacuuming.
Evaporation: Using equipment such as air movers, we help the water to evaporate faster.
Dehumidification: We use professional dehumidifiers for water-damaged homes to extract the moisture from the air and expedite the drying process.
Monitoring: Our technicians take atmospheric and moisture content readings that indicate whether the area is drying, at what rate and what adjustments, if any, need to be made to expedite the drying process and avoid excessive uncontrolled humidity levels.
GET BACK YOUR HOME. GET BACK TO LIVING.
When an emergency has damaged your home and your belongings, you need experts you can trust. Someone who not only understands your grief and challenges, but has the skills and experience to restore your home. We're here to help. We're here to serve.