Professional & Comprehensive Commercial Property Restoration In Ann Arbor, MI
Commercial restoration services you can count on when disaster strikes
Whether your property was damaged in a flood or needs reconstruction services to bring it back to its former glory, we can help.
ServiceMaster Excellence provides comprehensive commercial property restoration to Ann Arbor, MI, businesses. We understand that companies need to get back to normal operations as quickly as possible; there is no time for downtime when you're running a business.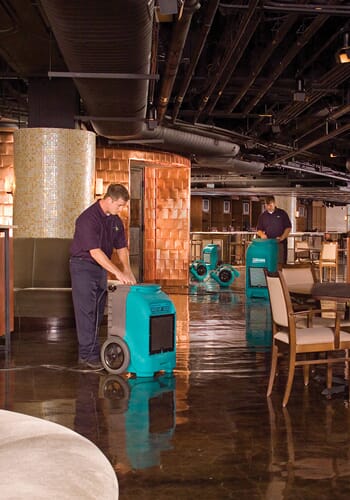 For expert commercial damage restoration services in Ann Arbor, reach out to our team at ServiceMaster Excellence. You can call us at(734) 315-2759 orcontact us online!
Our Commercial Property Restoration Services
Commercial Flood and Water Damage Restoration
We understand that dealing with flooding or water damage in a commercial property can be stressful and disruptive. That's why we provide comprehensive flood and water damage restoration services for businesses of all sizes. Our experienced team is equipped to handle any size disaster, from small leaks to major floods, quickly and efficiently so you can get back to business as soon as possible.
Commercial Fire and Smoke Damage Restoration
Our team is experienced in providing comprehensive restoration services to get your business back up and running quickly. We provide professional fire and smoke damage restoration services that include assessment, cleaning, repair, reconstruction, deodorization and more. With our expertise in this field we can ensure your commercial property is restored to pre-loss condition as soon as possible with minimal disruption to operations or customers.
We offer complete reconstruction and commercial restoration services, including:
Project Management, Scheduling, & Planning
Comprehensive Damage Evaluation
Controlled Demolition
Estimating Service
Detailed Scope of Repairs
Consultation & Design.
Disaster Restoration We Can Help With In Ann Arbor, MI
Catastrophic events can cause untold damage, but we can help with disaster restoration assistance, such as:
Emergency Disaster Restoration Services
Emergency Mitigation Services
Emergency Power
Board-Up
Drying/Dehumidification & Water Extraction
Soot, Smoke, & Odor Removal
Controlled Renovation
Commercial building renovations are best left to experts who understand how to mitigate the interruption of your services while ensuring unparalleled results. Our professional technicians offer effective restoration solutions to business and homeowners in communities throughout Southeastern Michigan.
They include:
Ann Arbor
Detroit Suburbs, including: Kerrytown, Burns Park, Superior Charter Township, Ypsilanti, Frain Lake, Canton, Plymouth, Livonia, Westland, Wayne, Romulus, Garden City, Dearborn Heights
We're available 24/7 to help restore your property when disaster strikes. Call our commercial restoration team at(734) 315-2759 orcontact us online.
Signs That Your Commercial Property Needs Restoration Services
Warning signs that your commercial property needs restoration services include:
Peeling or discolored paint
Visible mold or water damage
Cracked or crumbling walls or foundation
Strange odors
Sagging roofs or ceilings
Frequent plumbing issues
Pests or infestations
Uneven floors or sloping in the building structure
Warped doors or windows
Electrical issues such as flickering lights or outdated wiring
If you notice any of these red flags at your commercial property, it may be time to call in a professional restoration company. They can assess the damage and come up with a plan to restore your property to its original condition, ensuring the safety and well-being of your employees and customers. Don't wait for a small issue to turn into a major problem - address potential damage as soon as possible.
Our commercial property restoration services give business owners peace of mind when they need it most. Keep your company moving and contact us toschedule a consultation.