Water Damage Restoration in New London
Professional Water Removal & Flood Damage Repair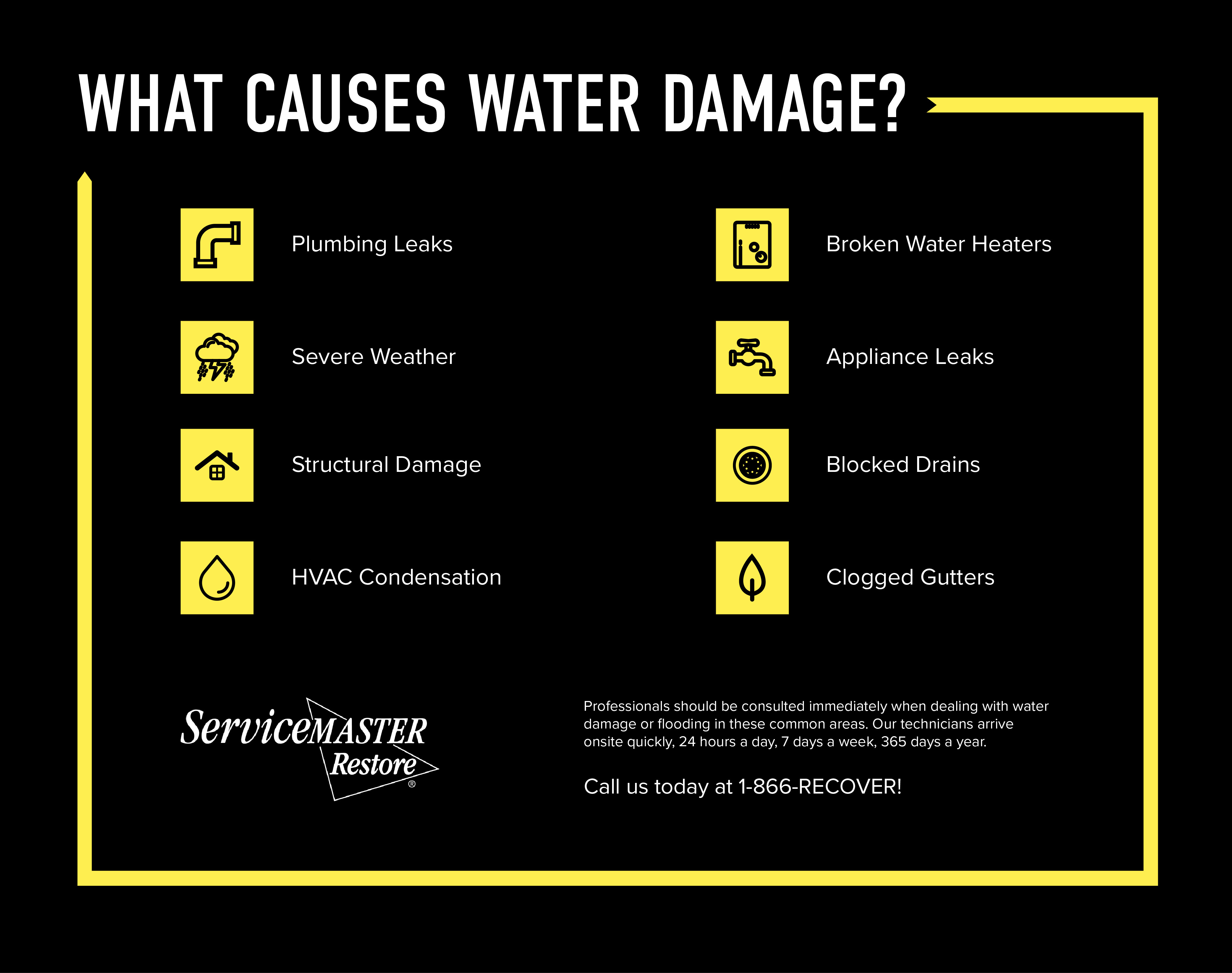 If you are experiencing a problem with a flooded basement, a burst pipe, or dampness and moisture caused by excess humidity in your home, you've come to the right place.
At ServiceMaster Restoration by Wills - New London, we specialize in water removal and cleanup of all types, and we're ready 24/7 to help you. We offer emergency water damage restoration in New London, as well as other disaster restoration services for homes and commercial properties.
Call (860) 590-7717 right away for fast, effective water damage restoration in New London, CT. We're available 24/7.
Common Water & Moisture Problems
At ServiceMaster Restoration by Wills - New London, our trusted team of experienced restoration technicians can offer a variety of solutions to any water damage disasters you may be facing.
Some of the most common problems for which we provide water damage repair include:
Local Flooding
Plumbing Failure
Groundwater Leaks
Pipe Bursts
Don't Wait To Repair Water Damage!
Properly drying a flooded basement or other areas of your home is vital to retaining the property value. Prompt water damage restoration in your New London home can also eliminate the need for additional repairs in the future.
When flood-damaged homes are not completely dried— for instance, when walls are closed up before having a chance to completely dry out—it can lead to extremely expensive mold damage to the home, not to mention wood rot and structural damage.
Mold, rot, and other water-related damages can lead to serious long-term health effects, and the eventual costs can easily total $100,000 or more.
Get help 24/7! Call (860) 590-7717 at the first sign of water damage.
Water Damage Before & After Photos





Flooding & water damage can be devastating. We can help!
Flood damage is a complicated problem that calls for a trained, certified professional. Along with the water extraction itself, a professional disaster cleanup expert from ServiceMaster Restoration by Wills - New London can help you address issues such as bacteria, corrosion, damaged personal property, electrical issues, mold removal and remediation, and potential foundation problems.
Water removal and damage restoration is an industry that has made a lot of progress in recent decades. The original method of vacuuming water and opening windows for ventilation has been long since been replaced by advanced methods of drying and dehumidifying and state-of-the-art technology.
Our expert technicians specialize in disaster repair of all kinds, and we've handled all types of water damage restoration in New London. There isn't a job, big or small, that we won't take on. We make emergency water cleanup fast and easy, and we even offer free estimates.
We are available 24 hours a day, seven days a week, all year long to provide you with water removal services right when you need them.
For a 24-hour emergency restoration service, contact us today! If you are looking for other residential restoration services in New London or the surrounding areas, we offer a wide range of solutions. We can also help with commercial damage restoration needs!