FLOODED BASEMENT CLEANUP IN NEW LONDON
COMMON CAUSES OF BASEMENT FLOODING -- AND HOW TO HANDLE THEM
The contractors who built your home never planned it to be a damp, musty, or flooding space. Unfortunately, as the forces of nature continue to bear down on the structure, a leak is bound to happen.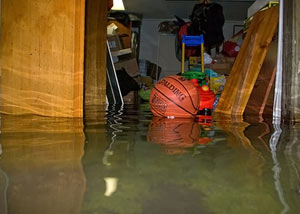 ​​​Basement flooding can be solved quickly. This is provided you work with experienced contractors who use proven methods for flood damage restoration.
WHAT DO YOU DO IF YOUR BASEMENT FLOODS?
First things first, you'll want to get a professional over to assess the damage and make repairs. Until then, here are a few things you can do before we arrive:
Turn off electricity and gas before entering your basement.
Try to find and stop the cause of your flooded basement. For instance, if a burst pipe is a cause, shut off the water to your basement.
Next, if your basement has one, you can use a sump pump to begin removing the water out of your basement. If you have a sump pump, it should be located in the lowest part of your basement. These pump the water out of your basement and send the water away from your home. You can also use a bucket to get water out.
These actions should help until we come over. You mustn't do anything else or try any DIY tips because doing so could lead to more damage and/or put your safety at risk.
BASEMENT FLOODING REPAIR IN NEW LONDON
Basement waterproofing is a much bigger industry than many homeowners realize! Because there are so many products, methods, and options when it comes to drying a basement, this is best done by a professional.
Likewise, it's a good idea to consult with a professional if your basement is experiencing severe flooding. The water in your basement is sometimes electrified, or contaminated, viruses, or bacteria.
A professional water damage restoration expert will have the training you need to ensure that your basement is pumped out safely. Also, your personal items will be protected and restored.
Our experts have the experience you need to ensure that your flooded basement is dried and treated for potential mold and humidity.
We Provide 24 Hour Emergency Service. Schedule a free estimate online or call (860) 590-7717
To schedule a disaster restoration quote, call or contact us online today! Our experts proudly serve New London and the surrounding areas.
COMMON ISSUES WITH FLOODED BASEMENTS
Water will flood into a basement at any point it can -- including the floor, walls, and wall-floor joint. Other openings, including windows, hatchway entrances, and the plumbing in your home. How you address your flooded basement will depend entirely on the original source of the problem. ServiceMaster Restoration by Wills' experts know the most effective way to fix a flooded basement!
If you are currently in need of flooding repair in New London, reach out to us right away. We also work in Springfield, New Haven, Hartford, Stamford, Norwalk, New Rochelle, Port Chester, Groton, Naugatuck, Southington, Branford, Greenwich, and nearby.