St. Cloud Smoke Damage Cleanup
Soot, Smoke, & Odor Removal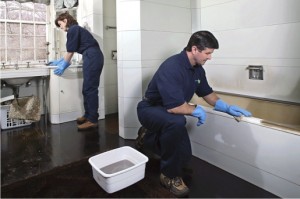 After a fire is put out, much of the damage left behind is the result of the smoke. Smoke damage cleanup is an important part of the recovery process after a fire and removing smoke damage is often a significant challenge. ServiceMaster Professional Services provides smoke damage cleanup in 28 counties and Minneapolis, MN to cleanup soot left behind from the smoke. Smoke is often laden with acidic elements that can cause damage long after the fire is extinguished which is why it is important to contact us for smoke damage cleanup as soon as the fire is put out.
If you're looking for smoke damage restoration and odor removal in minnesota, you can contact us online or give us a call at(320) 208-9569 today!
Smoke Damage Restoration
Smoke damage cleanup is often a multi-step process as it may leave soot on a range of surfaces throughout your home. We will work with you to help determine the scope of the loss and create a plan of action that includes your most important priorities to get your home back to normal. Our technicians are highly trained and experienced to remove soot left from smoke from a variety of at-risk household surfaces. Using the right chemical combinations, we can safely remove soot from marble, porcelain, tile, aluminum, brass, and stainless steel as well as fabrics such as carpet and upholstery. It is important to act quickly to remove smoke damage or the soot can become permanently etched on these surfaces.
For over 40 years we have helped thousands of customers with smoke damage cleanup in 28 counties and Minneapolis, MN. We use the latest technologies and the best practices in damage restoration to reverse the harmful effects of the damage.
ServiceMaster Professional Services also provides fire damage restoration services for 28 counties and Minneapolis, MN.
If you need smoke damage restoration services for your home in St. Cloud, call us at (320) 208-9569.