Home Construction Repairs in St. Cloud
Sometimes a major disaster such as a fire, accident, or severe storm can cause extensive damage to a home that can only be repaired with construction services. ServiceMaster Professional Services provides construction repairs in 28 counties and Minneapolis, MN to help rebuild homes and businesses that have sustained extensive damage in a disaster. Our construction service is the final step in getting your home back to normal after a fire, water damage, or sewer backup and our experienced carpentry crew will finish the job to your complete satisfaction.
Construction Repair Process
The staff of ServiceMaster Professional Services consists of carpenters and skilled craftsmen who are experienced and certified to handle any reconstruction project from homes to multi-tenant buildings and large commercial or industrial buildings. We are dedicated to restoring every home and building to its original condition. Our construction repair process includes the following steps:
Project management, scheduling, and planning
Complete damage evaluation
Controlled demolition
Estimates
Detailed report of all repairs
Pricing with insurance provider
Consultation and design
Roof tarping
Full-service remodeling
Building stabilization
Code compliance
Sometimes construction repairs can take months to complete. One common reason for this is that trusted construction crews are hard to find and even harder to schedule. But hiring our crew means that the transition from clean-up to repairs is a seamless "hand-off" that significantly reduces the time it takes to get your home restored.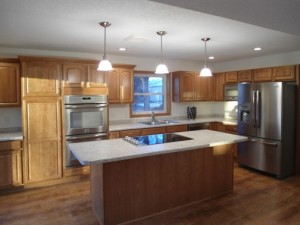 After a fire or water loss, arranging for reconstruction services is a headache that you don't need. Sometimes few construction crews are interested in smaller projects but our crew does not consider the size of the project as much as how we can help our clients throughout the restoration process.
If your home or business has been severely damaged in a disaster, contact ServiceMaster Professional Services for construction repairs in 28 counties and Minneapolis, MN. Our skilled and certified crew will completely rebuild and restore your home to its original condition. Call us at (320) 208-9569 for more information.