Packout Services in St. Cloud
Content Packout & Storage During Restoration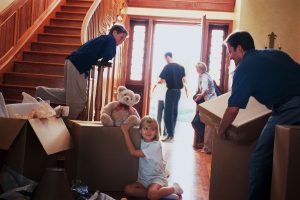 We know what water and fire can do your home and to your family. For the last 40 years families and business owners have trusted our company to handle their worst losses. We understand the damage to home or business oftentimes means having to rebuild, but the extent of the damage can go further, effecting your precious items and valuables, which can still be in danger from further damage after the fire is put out and or the water is gone.
On-site building conditions after your loss has the risk of your valuables being unsecure and exposed to the elements. The possibility that items, such as furniture, have to be moved before reconstruction and restoration can happen is likely to cause more damage. ServiceMaster Professional Services understands and cares about your peace of mind and your belongings and we have the capability to handle all of your items quickly and safely.
What does a packout and content restoration service look like? Our team has undergone hours of professional packing and inventory training. Every item is carefully handled and inventoried and even before leaving your home or office, our technicians provide a detailed list of every item being transported and stored at one of our climate controlled secure Service Locations. During this period, your belongings undergo a deep clean, deodorization and inspection by our certified technicians and trusted Vendors, restoring items to pre-loss conditions. Once that is completed, your items are repacked and stored in the vault, a preassigned storage container, until you are ready to have the items returned to you. That is the professional packout and content restoration service we are providing.
What you can expect from us:
Detailed Inventory
Professional Packing
Expert Moving Services
Expert Content Restoration
State Licensed Warehouses
Access to stored items
Expert Restoration of Contents
Chain of custody forms
Secure Climate Controlled Locations
Bonded and Insured