Water Damage Restoration in Willmar, MN
Flood Cleanup from Certified Experts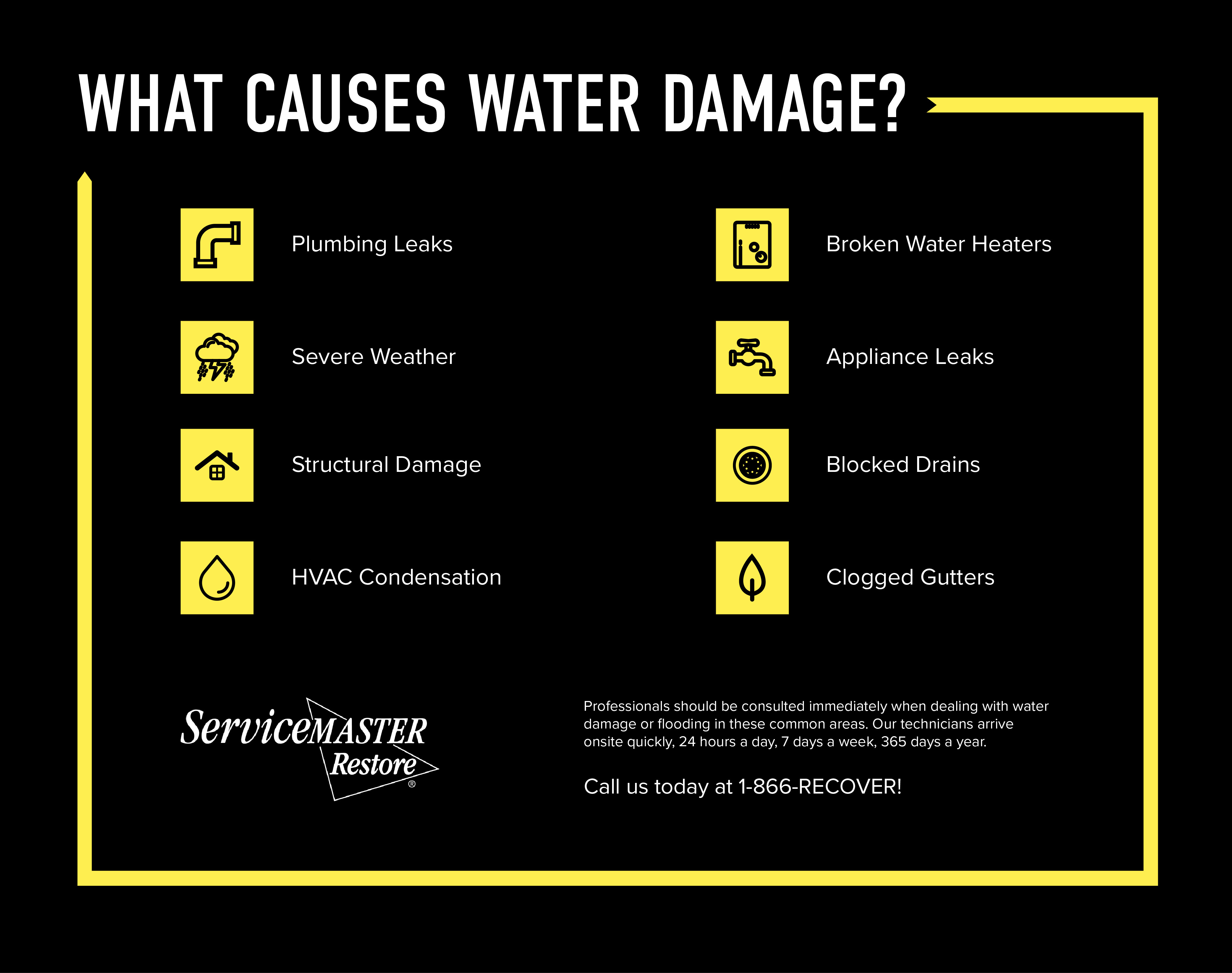 Just about every home and business in the state of Minnesota will eventually be a victim of water damage due to our wet local climate. The onslaught of rain, flood, and humidity alongside issues like leaks and burst pipes are a few reasons why home water damage restoration is a much needed industry in the region. Water damage can be deceiving because it gets absorbed into the building materials and furnishings which makes even minor damage a potentially major problem without the proper action. ServiceMaster Professional Services provides water damage restoration services in Willmar, MN to remove water and moisture from homes and buildings as well as clean up and repair the damage. Our technicians are on call 24 hours a day, 7 days a week, 365 days a year to respond to water damage emergencies.
We react quickly to your call and arrive on the scene with the best drying equipment and cleaning products available to deal with water losses of any size in commercial and residential settings. With our advanced flood cleanup and drying equipment, we can effectively remove water from the structural elements, furnishings, and content in your home.
What to Do in Case of Water Damage
Immediately call SVMPS to stop the spread of the water damage which will save time and money on the restoration and prevent mold growth.
Remove excess water by mopping and blot drying.
Remove temporary floor coverings such as wet area rugs.
Put drapery bottoms through a coat hanger and put the hanger on the rod to keep draperies off the floor.
Wipe off excess water from furniture and prop up the cushions for even drying.
Put paintings, photos, and similar objects in a safe location.
If your books are damaged, keep them packed together tightly on the shelves to avoid page warping until they can be treated with our specialized drying process.
Open up doors, windows, internal doors, and cabinet doors and drawers to help with drying.
What NOT to Do in Case of Water Damage
Do not walk into a room with standing water unless the power is turned off.
Do not use a normal household vacuum cleaner to remove water.
Do not remove permanent flooring, leave this to a professional.
Do not use electrical appliances while standing on a wet floor.
Do not disturb mold or mildew growth, this is also best left to professionals.
Reacting quickly to water damage is important because it can get absorbed in building materials such as drywall, insulation, wood, and others that allow it to spread throughout the home or building. This results in widespread structural damage and greatly raises the risk for mold growth. We will help mitigate the damage so that it does not spread to unaffected areas and completely extract all water and moisture from absorbent materials with our specialized drying equipment. Our flood cleanup technicians provide the following with our water damage restoration services:
Complete evaluation of the damage
Removal of excess water and moisture
Anti-microbial application
Drying: air movement
Drying: dehumidifying
Drying: monitoring
Water damage can quickly become a much bigger problem without prompt action so call ServiceMaster Professional Services for flood cleanup as soon as you discover water damage in your home or business in Willmar, MN.
We are standing by to respond quickly to help mitigate water damage and remove excess water with our advanced drying equipment. Our phone lines are open 24 hours a day at (320) 348-7792.