Trauma Cleaning Services
Trauma cleaning services are needed when bodily fluids are present such as blood. Trust our expert team when you experience an injury, vandalism or crime. Not only can these situations be taxing mentally, but they also require special knowledge. At ServiceMaster Restoration & Cleaning, our technicians are trained in proper clean-up, protective equipment (PPE) and disposal. The area will be left cleaned, sanitized and safe for anyone to enter.
Our expert team treats every situation with professionalism and empathy. When a disaster happens, you need a team of trauma cleaning experts ready fast. Rely on us to return your home or office to its original state efficiently and thoroughly. We'll walk you through every step of the process. You'll always be informed of the state of your property.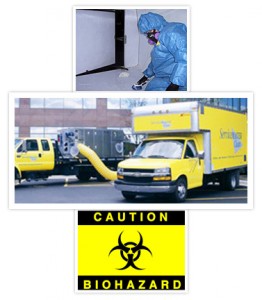 There are many types of trauma cleaning including:
Crime scenes
Homicides
Suicides
Natural death
Trauma accidents
Industrial accidents
Tear gas cleaning
Meth labs
Fingerprint dust
Uninhabitable residences
Disinfecting/odor removal
Vehicle mishap cleaning
Hoarding and gross filth
No matter what state you find your home or office, trust the team of experts that has been restoring peace of mind for over 25 years. Contact us at (762) 226-2114 to schedule a trauma cleaning service.