WOOD FLOOR CLEANING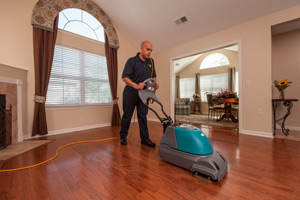 When time and use dull your floors, we help return the glow.
Beautiful hardwood floors can be one of the most impressive features of your home. However, everyday wear and tear that can occur from pets, spills, traffic, high heel shoes and furniture can gradually dull the appearance of your wood floors.
According to a 2006 survey conducted by the National Wood Flooring Association with real estate agents across the country, 99% agree that homes with hardwood floors are easier to sell, 82% agree that homes with hardwood floors sell faster, and 90% agree that homes with hardwood floors sell for more money.
Although genuine wood flooring can be expensive, caring for it doesn't have to be. Restoring your floors may be a good option without breaking the bank on expensive sanding and refinishing. Having your hardwood floors professionally cleaned is a less costly alternative. We believe your hardwood floors can and should always look new. The key is to keep them in good shape before you have to go through the time, expense, and inconvenience of sanding and refinishing. Count on ServiceMaster Clean® to keep your hardwood floors looking their best.
Why refinish or replace your wood floors when we can revive them?
Our professionals at ServiceMaster Clean know your hardwood floors can look new longer through our WoodGlo™ Cleaning System which provides a protective finish against everyday damage that can occur.
We use environmentally friendly, commercial-grade products and equipment to create supreme durability and successfully eliminate dirt, dust, oil and other contaminants that can damage wood floors. Water-based finishes and sealers safeguard your wood flooring investment, offer faster dry times and have less harmful fumes than oil-based finishes thanks to their low volatile organic compounds (VOC) levels.
Which WoodGlo Solution is Right for You?
Both WoodGlo options safely, yet aggressively remove dirt, debris, grease, hair, soil, dust and built-up residue trapped in your floors and remove residue and contaminants left behind from other cleaning products. But the right solution for you depends on the level of protection you desire for your floors.
WoodGlo Level 1
Brightens the appearance of your floors by adding a finishing coat using WoodGlo Renewer.
Professional cleaning is recommended every 6 to 12 months to keep your wood floors looking their best, depending on traffic and severity of damage.
The benefits of our WoodGlo Cleaning System include:
Unbeatable clean and shine
Reduced wear on floor surfaces
Dust-free burnishing
Enhanced slip resistance
Fast dry times
Less yellowing
Low odor
Simplified maintenance
Letting us renew your hardwood floors' appearance allows you to avoid the cost and dust involved with sanding and refinishing your floors. Results may vary depending on the condition of your hardwood floors. Heavily damaged wood floors may need sanding and refinishing.
What to expect with our service.
Step 1: One of our trained technicians will come to your home to perform an inspection of your floors looking for scratches, discolorations, cracks, etc.
Step 2: Based on your needs and expectations, the technician will recommend the proper way to restore your floors, whether or not it's a service we provide.
Step 3: Our next step is to fully explain your service options to you. Our technician will provide you with a detailed explanation of WoodGlo Level 1.
Step 3: Once you select your option, we then scrub your floors with the automatic wood floor scrubber and proprietary cleaning solutions.
Step 4: If you selected WoodGlo Level 1, we apply a coating using WoodGlo Renewer to reseal your floors.
Step 5: Finally, our technician will re-inspect the floors with you to ensure you are satisfied.
Already scheduled your service?
If you've already scheduled your hardwood floor cleaning appointment, here are some instructions about how to prepare prior to your service and what to do after your service.
Pre-Cleaning Instructions:
Remove breakables from the tops of furniture in the room we will be cleaning.
Move heavy items such as pianos, sofas, entertainment centers, china cabinets or any other large furniture out of the rooms we will be cleaning. If items are too large to move, consult with your technician.
Pick up items from the floor such as rugs, plants, toys, pet beds, etc.
Vacuum or dust mop all debris on hardwood floors prior to your cleaning.
Post-Cleaning Instructions:
Allow drying time of at least one to two hours before you walk on your floors in sock feet.
Protect floors from getting wet for 24 hours after application.
Return furniture to your floors (with suggested use of felt pads) after 24 hours.
Return rugs to floors after 24 hours.
We can help you maintain and care for wood floors.
Hardwood floors are beautiful, but they aren't maintenance-free. The key to keeping them beautiful is to protect the floor's finish. Protecting the finish is not incredibly difficult; you simply need to keep your floor as clean as possible. Lingering soil can act like sandpaper on your beautiful floor if it is not regularly swept or vacuumed. Dirt and soil can cause scratches in your wood floor's finish as well as dull the sheen of the floor.
Daily Care
No matter what type of wood floors you have, the best way to care for them on a daily basis is through sweeping or vacuuming with soft bristles. Some vacuums have a "non-carpet" setting that works well on bare, hard surface floors.
Use doormats at all exterior entrances and exits to trap sand and grit before it gets into your home and scratches the floor. Ground-in dirt is what makes floors look dirty and dull and can also create small scratches and flaws in the finish.
Use area rugs on high traffic pathways, particularly in pivot areas like the ends of steps and doorways. Avoid using rugs that have rubber backs as this does not allow for proper ventilation.
Standing water can damage wood floors. Be sure to clean up spills immediately.
A quick-dry mopping or vacuuming — anywhere from daily to weekly depending on usage — will help maintain your floors.
Utilize furniture protectors under furniture that will be moved regularly, like dining room chairs. Furniture can scratch and dent wood and laminate flooring.
Do not wet mop your wood floor; it can harm the finish. Never use wax, oil soap or other household cleaners on your wood floor. They can dull the finish and make refinishing more difficult. We suggest using our WoodGlo Neutral Cleaner on a weekly basis as needed with a microfiber flat mop. Contact your local ServiceMaster Clean professional for more information on this product.
Do not walk on your wood floors in shoes with high heels and be sure to keep the nails on your pets trimmed to prevent scratches to your floors.
Maintain a consistent humidity level. Humidity can cause wood floors to swell, crack, shrink or create gaps.
Check for wear periodically and do not wait until wood floors show extreme wear and tear before you take action. Call us to give your wood floors the cleaning and protection they need to avoid having them fully sanded and refinished, which is an expensive and time-consuming process.