Commercial Water Damage Restoration
Water Damage repair near you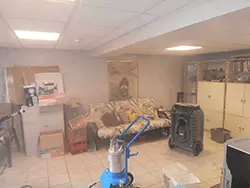 ServiceMaster by Singer has trained and certified professionals to help you with any water damage restoration and clean up your commercial property or business needs. Water damage is no project you want to tackle alone; this disaster can lead to further damage such as mold damage and full reconstruction and restoration. Our Full-Service Commercial Water Damage Specialists are available 24/7 to restore and clean up all water damage related issues quickly, effectively, and safely.
We will do whatever is necessary to get your water-damaged commercial property back to its pre-loss condition, and to get your company back to an operational level. Because of our decades of experience in this industry, we know what to look out for to save you time and money in the long run. Effective communication in water damage restoration is essential to getting your organization back to work as fast as possible while maintaining a high level of quality. We can act as a liaison for you between the water damage and all relevant stakeholders.
Give our team a call at (410) 346-9336 orcontact us online to schedule water damage restoration today!
Commercial Water Damage: Sources
Unfortunately, water damage can occur quickly and from various sources. ServiceMaster by Singer can help you with any damage that arises from these issues below:
Heavy rainstorms
Overflowing Toilets, Bathtubs, and Sinks
Piping Issues
Our Commercial Water Damage Process
ServiceMaster by Singer is a full-service restoration company. We will handle all your commercial property needs, including but not limited to commercial water damage restoration, pack out, clean up, and structural repairs. Beyond any physical work that is necessary, we can also help with insurance carriers, insurance policies (including the building owner's master policy and tenant policies like Betterments and Improvements Insurance, Contents Liability Insurance, etc.), or any other complications resulting from your loss. Our Water Damage Restoration Specialists are fast, efficient, and have the right solution to recover from water damage.
Our approach toward water damage is simple. Check out our Water Damage Restoration and Clean Up page for more details.
Dial (410) 346-9336 orcontact us online to learn more about water restoration services!
Contact Our Experts For Commercial Water Damage Restoration
We offer full services to the Baltimore, Washington, D.C., Wilmington areas, and surrounding communities. No matter what causes water damage, ServiceMaster by Singer has the resources and expertise to help you restore and clean up your commercial property or business.
Contact us or call 855-574-6437, and we will be on-site quickly to assess the situation and provide written estimates for repairs. Our Commercial Water Damage Specialists will handle the details fast and with urgency. We provide full services to make sure your property returns to its best condition. We will work closely with your insurance company to deal with all restoration and clean up details. Let us fix your water damage needs.
For More Information On Water Damage:
Find Out More About Our Proprietary Disaster Preparation Program
To be able to effectively implement a customizable comprehensive disaster solution for you and your organization, we need to work together to plan for the possibility of future water damage.
This would include onboarding your company's unique needs and property specifications.
There are many important questions to consider prior to the event of water damage:
What do your insurance policies (there may be multiple relevant policies) cover?
What is your deductible on each policy? Will you be paying out pocket?
Where can our team park to minimize business operations?
Do you want trucks with our company name and logo showing up at your property?
What structures, systems, and materials are we allowed (and not allowed) to work on?
Who should we first talk to upon arrival at your facilities or building (this may vary depending on the time)?
What authority does this person have to make financial decisions for the company?
and many more…
Please reach out to us prior to a loss, or needing our restoration services, so that we can help prepare you for a catastrophic event and save you money when it does happen.
Find out more about our proprietary Disaster Preparation Program to see how you and your organization can minimize a future loss's impact on your operation.
Looking for restoration services near you? Call us at (410) 346-9336 or contact us online now!