Disaster Restoration Services for New Caney, TX
ServiceMaster Restoration & Cleaning
Serving the New Caney, TX Area since 1992 - Call

(281) 503-5189
Nobody can predict exactly when or where a natural disaster will strike, or how much damage it will cause. There's no way to prepare for every kind of damage that might occur, but the one thing that's certain for all disasters is that without fast action, the damage will get worse. ServiceMaster Restoration & Cleaning has been providing full service disaster restoration services to homes and businesses in New Caney, TX that have experienced any kind of disaster damage since 1992. All of our technicians have been trained and certified by the IICRC to provide quality restoration services that meet the high standards set by the ServiceMaster Restore Quality Restoration Vendor Program.
We use only the most advanced products and equipment available in the industry at ServiceMaster Restoration & Cleaning to ensure we provide our clients with the highest quality restoration services. We work on large-scale restoration projects, and give back to the New Caney, TX community by taking part in community-wide restoration projects after natural disasters. Our dedication to providing our clients with the best service has been rewarded by the Better Business Bureau three times with their Award of Excellence, and by Angie's List with their Super Service Award.
Comprehensive Disaster Restoration Services:
Fire Damage Cleanup.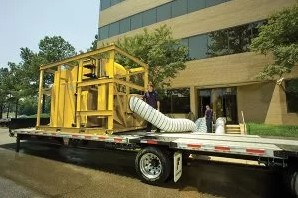 Fires are devastating and pose the most immediate risk to personal safety. Never try to fight a fire on your own or remove items. The only thing you should do is evacuate people from the building and call 911 from a nearby location. Unfortunately, there's no time to relax once the flames are out. Toxins like soot, smoke, and even the firefighting materials continue to etch and tarnish items even after the fire department has left. Without prompt remediation, this damage is permanent. ServiceMaster Restoration & Cleaning can restore the damage left behind after a fire, including restoring items that look like they're beyond repair, but only if you call quickly.
Smoke and odor mitigation. Bad smells are unwelcome "leftovers" from many disasters. Fires, mold, floods, and pets leave behind foul odors that make it unpleasant to be in your home or business, no matter how much time and money you spend on the furnishings. The smells can't be covered up because they're deep down into the fibers of carpets and furniture. ServiceMaster Restoration & Cleaning can effectively remove even the worst smells from your home or business. The state of the art equipment and products we use ensure that things will smell fresh and clean again.
Flood damage restoration. Water is the leading cause of property damage because it comes from so many different sources. Appliances leak, sinks overflow, pipes break, and storms bring flash flooding. Excess water won't go away on its own; it will soak into porous surfaces like textiles, insulation, and drywall and spread further through the building. As the water spreads, these materials warp, split and discolor and without fast remediation, this damage becomes permanent. Mold growth begins within 48 hours, causing more damage and health problems. ServiceMaster Restoration & Cleaning removes all traces of excess water using heavy-duty extractors and drying equipment. We can restore damaged items and rebuild damaged building materials.
Mold remediation. Mold must be taken seriously because it can be very dangerous. It's not just an ugly spot on the wall; mold weakens and destroys affected surfaces and causes health problems. Mold grows quickly because the spores are everywhere in the air and feed off common household items like paper, textiles, and wood. All they need to grow is a source of moisture. The experts at ServiceMaster Restoration & Cleaning have the training, equipment, and protective gear to safely and effectively remove all traces of mold from your home or business without spreading it or endangering anyone's health and safety. We are licensed by the State of Texas to provide comprehensive mold remediation, including evaluation and testing to find all traces of mold, even in hidden places.
No matter how your home or business in New Caney, TX experiences disaster damage, the highly qualified professionals at ServiceMaster Restoration & Cleaning can repair and restore it. We'll respond quickly and work with your insurance company so you can put the experience behind you and get on with your life again.
You can reach the professionals at ServiceMaster Restoration & Cleaning 24 hours a day, 7 days a week at(281) 503-5189 for high quality disaster restoration services.